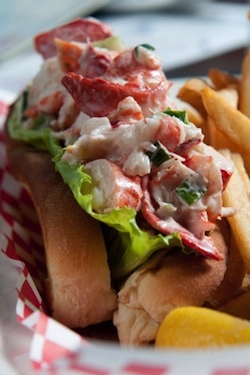 Todd Kliman, food and wine editor
• Bet you never thought bread was political. The Guardian explains. The power of bread: Let us eat politics
• A picture of cupcakes I hope never to see again. braaaaaaains
• There's pedigree here, for sure—Steven Grasse is the man behind Hendrick's gin, among other drinks—but Spodee, a mix of wine and whiskey, sounds a lot to me like a Bartles & Jaymes for the craft cocktail age. Spodee for Summer Sipping
• Interesting story on geophagy—dirt-eating to you and me—and why it's not a bad thing. And a first paragraph you will never, ever forget. Pica, the compulsion to eat dirt and other oddities, is found in many cultures
Ann Limpert, food and wine editor
• Former New York Times restaurant critic William Grimes bites into the Taco Bell Doritos Loco taco. His verdict? "Pretty good"—and Frito Lay's mysterious spice-application process for the taco shell eliminates any orange dust on your fingers. Looks Like a Taco, Tastes Like a Chip
• Meanwhile, the New Yorker takes a long, hard look at Burger King's "belatedly hip" bacon sundae. Why Does Fancy Fast Food Make Us Mad?
• Someone turned President Obama into a Chuck Close portrait . . . with Froot Loops. My favorite though, is the Jell-O-shot homage to Bill Cosby. Food Inspired Celebrity Portraits: Cheetos, Jell-O, Cupcakes, and More
• After following Ruth Reichl's sage advice on how to make the perfect grilled cheese (patting shredded cheese onto the outside of the bread makes all the difference), I'm excited to try out her lobster roll primer. Her secrets: lady lobsters, homemade mayo, and Pepperidge Farm hot dog buns. How to Make a Better Lobster Roll
Tanya Pai, deputy managing editor
• Food Republic answers the question you've been dying to ask (whether you realized it or not): What the heck is that paper thing that comes on top of Greek yogurt? What Is the Paper Thing in My Greek Yogurt?
• The photos from Eater's look back at the 1939 World's Fair are totally fascinating—as is the thought that you could get a multi-course meal for $1.75. I want to go to there. A Food Tour of the 1939 World's Fair
• And because I enjoy sparkly things: PBS's oddly beautiful visualization of the supply chain required to get pizzas made and delivered in Manhattan. America Revealed: Pizza Delivery
Jessica Voelker, online dining editor
• Hey beer, wine, and cocktail writers: This should put your spending habits into stark perspective. What America Spends On Booze
• Beloved Washington Post restaurant critic Phyllis Richman—who wrote about Alain Ducasse first, she'll have you know—returns with a review of the Craig Claiborne book. Spoiler: She likes it. "The Man Who Changed the Way We Eat: Craig Claiborne and the American Food Renaissance" by Thomas McNamee
• I came across this Simon Ford story on Food Republic while reading a newer one about the most influential cocktails of all time. They're both good, but this one is essential reading. How to Get the Most out of Daytime Drinking
Sophie Gilbert, associate arts editor
• I have never heard the expression "a pie in the hand is worth two on the sill," and "a cream pie in the face" just sounds dirty. Read this NPR blog post about National Pie Week and try not to think of "Delicious Dish." I dare you. Five Facts About Pie That Might Surprise You, and a Survey
• "I once spent two weeks having sex with every dish on the prix-fixe tasting menu at Per Se." Another humdinger from McSweeney's, this time in the form of a lecture about how to get your food-sex videos to go viral (NSFW). A Lecture on Achieving Success With Internet Video From a Man Who Has Sex With Food
• Here's some cheery news from USA Today: Summer is the perfect time to take advantage of nature's healthiest food pairings. Synergistic summer food pairings can boost health benefits