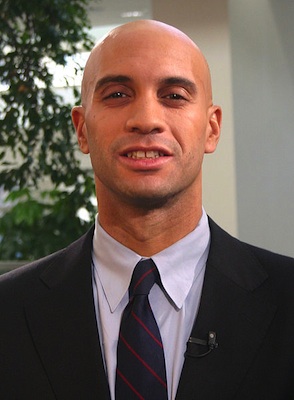 More than a few residents of Washington, DC, are suffering from voter's remorse. Those who turned out
Adrian Fenty in favor of
Vincent Gray want a do-over. Federal
prosecutors are probing Mayor Gray's campaign for felonious behavior.
Hamstrung by the pallor of corruption,
Gray seems to have slogged through his first year, compared to
the frantic motion Fenty brought to the job.
Voter's remorse is particularly evident in the upper reaches of Ward 3, where voters who went with Gray pine away for the
vigor they saw in Fenty.
All of which leads to one question: Will Fenty return to politics and run again for mayor?
"I hear it all the time," says
Terry Lynch, a Fenty confidante and executive director of the Downtown Cluster of Congregations. "Where's Adrian? Would he consider running
again?"
The short answer is no. The long answer is noooo. I
cornered Fenty at a fundraiser and asked him if he was done with DC
politics.
He gave me that zany grin under startled eyes and said: "Done."
Friends, allies and former staffers still in touch with Fenty say he has taken a guillotine to his decade in DC politics:
from council staffer to council member to one term as mayor. He's moved on, they say, with nary a glance back.
"He's living the life," Lynch says. "His wife and
children are thrilled to have a real life outside the glare of the
media.
Who would want to give up the chance to spend time with their
kids, take a vacation, compete in a triathlon without being
taken to task?"
Fenty, 41, has stitched together a variety of gigs. A
lawyer by training, he became special counsel last summer with the law
firm Klores Perry Mitchell. Oberlin College, his alma mater,
invited him to teach classes in government. He's consulting on
government contracting. He's spending a lot of time with his
twin sons and daughter, friends say.
"I don't think Adrian would give up the money and the lifestyle," says
Tom Lindenfeld, a political adviser who helped elect Fenty in 2006. At 36, he was the youngest DC mayor. He won every precinct. "Why sacrifice
the plaudits to prove that all over again?"
Lindenfeld is a fan of Fenty's bold reforms. He took
control of the public schools, oversaw the repair and rebuilding of
schools
and recreation centers, housed the homeless, and brought
accountability throughout the DC government. Even Washingtonians
who thought Fenty grew arrogant and distant as mayor want him
back.
"He looks better and better in the rearview mirror," says a political opponent who worked to elect Gray.
If Fenty wanted to stay connected to the District in a
charitable rather than a political endeavor, he could take control
of Forward Faster, a nonprofit that holds the $440,000 left
over from his citizen services fund. By law, he could convert
the funds into a charity, which he did in 2010.
Washington Business Journal has reported on the fund. At last check, Fenty did not have a role in the nonprofit.
Fenty has played a bit part in national politics. When Wisconsin Republican governor
Scott Walker first faced criticism because of his clash with public employee unions, Fenty went on national TV to support him and rail
against collective bargaining.
"Adrian is still a very young man," says a council member. "He could come back in 2018. It's still possible."
Seems highly doubtful. And he might have to run as a Republican.