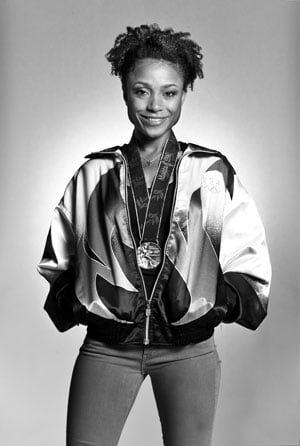 The President has selected seven people to represent the country at the Olympics opening ceremonies July 27.
The 2012 Olympics kick off in just five weeks, and with
teams in many sports already named and others (think gymnastics,
swimming,
and track and field) being selected over the next couple of
weeks, the Olympic spirit is catching. Even the President isn't
immune—today he announced the presidential delegation to the
London opening ceremonies, which includes the First Lady and
a number of former Olympic and Paralympic stars.
Among them will be locals
Grant Hill, a member of the 1996 gold-medal-winning Dream Team; and
Dominique Dawes, who has three bronze medals and one gold, earned as part of the 1996 Magnificent Seven. The two are members of the President's
Counsel on Fitness, Sports, and Nutrition—Dawes cochairs it with
Drew Brees—and are heavily involved in promoting the First Lady's Let's Move! initiative.
The First Lady will lead the delegation and hopes to
parlay the excitement surrounding the games into increased sports
participation
by American kids. Her Let's Move! initiative aims to end
childhood obesity in a generation, and she and the athletes and doctors
that work toward that goal emphasize being active as one very
important step.
Of the representatives and the initiative, Michelle Obama said: "I know this delegation will help inspire a generation of
young people to get into the Olympic spirit by getting active
and healthy so they can reach their fullest potential and reach
their dreams."
The announcement comes just in time for Olympic Day,
celebrated June 23 each year to commemorate the birth of the modern
Olympics.
Other members of the delegation include
Louis Sussman, US ambassador to Great Britain and Northern Ireland;
Brandi Chastain, whose shirt removal following a 1999 Women's World Cup win made her famous but who is also a three-time Olympic medalist;
Gabriel Diaz de Leon, a five-time Paralympic medalist; and
Summer Sanders, who won four medals in the 1992 Games.
For more on past Olympians, including Dawes, Michelle Kwan, and Jair Lynch, pick up the July issue of The Washingtonian, on newsstands now.