As Division I college athletes—Mary, a diver at University of Texas Austin, and Melissa, a high jumper at Syracuse University—we can admit we rarely stopped to think about the fact that 40 years ago, neither of us would have had the opportunity to compete in a college sport.
But last week marked the 40th anniversary of Title IX, an education amendment that states no US citizen "on the basis of sex" shall be excluded or discriminated under any education program or activity, including athletics. In just 33 words, girls and women, no matter their talent, were given the okay to join their schools' athletic teams and not be barred from joining the softball team simply because they were the wrong sex.
Such was the case for former international softball player Dot Richardson, who at the age of ten was asked by a male Little League baseball coach to join his team, under one condition: She had to cut her hair and play under a boy's name. "We're gonna call you Bob," he told her.
"I said, 'Sir, thank you, but no thank you. If I have to hide who I am, then I don't think that's right.'" recalls Richardson, who was in DC last night for the Title IX celebrations at the Newseum.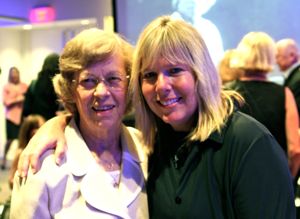 "My brothers got to play," Richardson says. "But people would say to me, 'Dot, if you were born a boy, you could've played. Too bad."
The next year, Title IX was enacted, and Richardson's athleticism became a vehicle for huge success and opportunity. She played softball and basketball for UCLA, won the first-ever NCAA women's softball title, and led the sport's US Olympic team to a gold medal its debut year.
Richardson, now an orthopedic surgeon, was part of a large group of retired athletes, business people, and media who gathered at the Newseum last night to celebrate the 40th anniversary of Title IX. ESPNW vice president Laura Gentile spoke to the group about the progress that's been made for women in sports, saying that at the first Olympics, women weren't even allowed to watch, much less compete, and that the impending games remind us just how much we've accomplished.
Richardson agrees that we've come a long way, but she added that more progress is required.
"Isn't it a shame to have an addendum to the constitution to have what is just?" says Richardson, who is an inductee of the National Softball Hall of Fame. "It's about giving people opportunities to let them express their gifts and their passion, to impact the lives of others."
Watch the mosaic video of female athletes that was projected onto the Newseum last night.
What does Title IX mean to you? Tell us your story in the comments.