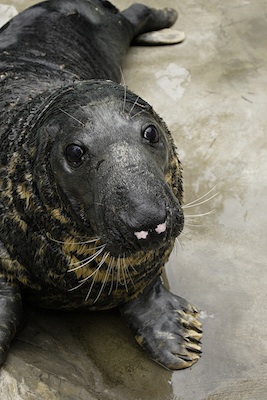 A virtual Cold War veteran, who was trained to perform
top-secret missions for the US Navy, has died at the National Zoo.
His name was Gunnar, an elderly (in seal years) 38-year-old
gray seal. In other words, a real Navy seal. He died on Friday,
June 22. The Zoo's communications office said he had been in
declining health for several months. Still, 38 is a long life
for a gray seal in captivity, especially one who had such an
interesting life. His journey began in Iceland, his birthplace,
where he was found by a Navy researcher who thought he had the
temperament to cooperate with special training.
"When he was six months old, Navy researchers trained Gunnar to perform underwater tasks during the Cold War," according to
an announcement from
Jennifer Zoon. His training occurred at the
Naval Oceans Systems Center in San Diego, and the tasks included
inserting and removing equipment,
using a screwdriver, and turning a large wheel. Gray seals can
dive to depths of up to 475 feet and remain there for 20 minutes,
according to Zoon's statement. Gunnar arrived at the National
Zoo in 1979, after the Navy dropped the seal program.
Because his genes made him a prime candidate for the
Zoo's Species Survival Plan, Gunnar is survived by two daughters: Kara,
born in 1983, and Kjia, born in 1990. They reside at the
Adventure Aquarium in New Jersey, but are scheduled to return to
the National Zoo in September.