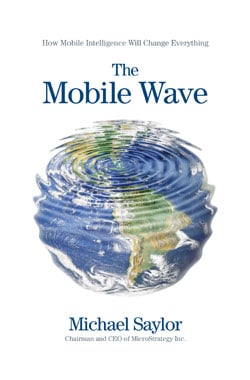 Michael Saylor is a full-blown local legend.
As chairman and CEO of MicroStrategy, a McLean-based high-tech firm that
specializes in mining
data from their databases for businesses and other
organizations, he's ridden the wave of the Internet revolution. His
important
clients reportedly include Facebook. He has a reputation as an
extravagant playboy, but with his first book,
The Mobile Wave, one can't help but feel the glamour
is a cover for a deeply serious man with deeply serious thoughts. In
fact, he calls
himself a "science historian," a self-view backed up with
degrees from MIT: one in aeronautic and astronautic engineering,
the other in science, technology, and society. Once upon a time
he wanted to be a fighter pilot.
In
The Mobile Wave his vision is clear—we face a future
in which paper, devices such as phones, credit cards and cash,
entertainment venues,
doctor's office visits, and even the classroom will be
obsolete, or nearly so. He wants everyone on the bandwagon, from
toddlers
to grandparents.
Right up front he says, "I've written
The Mobile Wave with the kind of appreciation for
today's formidable technological currents that a veteran sea captain
might have for the
Deep Blue and the rogue waves that can suddenly appear in its
midst. Understand the wave, and you can ride it. Refuse to adjust,
and you will be swallowed."
He's had his brushes with being nearly swallowed—ask him
about the late 1990s and 2000—but no one has ever denied his status
as a tech visionary, and today he's a certified billionaire.
His vision, as laid out in his book: "The transformational power
ahead is the confluence of two major technological currents:
the universal access to mobile computing and the pervasive use
of social networks." He also states that soon 5 billion people
will have app phones, essentially carrying "a computer in their
pockets." He calls it "disruption ahead."
Below, we take five main points from the book and paraphrase them for you:
• THE DESTRUCTION OF PAPER
Paper has been the
most common medium on which to communicate information. But the mobile
screen is magic paper. It can show
any page and blend text with multimedia seamlessly. It's
searchable, sendable, and zoom-able. "Why buy a physical book when
you can hold the entire Library of Congress in your hand?"
• INSTANT ENTERTAINMENT
Other containers, such as DVD cases and film stock,
have held movies, television shows, video games, and photos. You have
to accommodate their restrictions, to travel to where they were
made available, to watch them according to a broadcaster's
schedule. On the mobile screen you can watch what you want,
where you want, when you want.
• THE INTELLIGENT WALLET

Money, credit, and
loyalty programs will all become software on your phone, taking on
myriad new shapes enabled by the software.
You will be able to give digital cash to your daughter but
limit the time window in which she can spend it. Digital cash knows
who owns it and who should have it, and can alert police if
either of those is suspect. Credit fraud could drop so sharply
that companies could justify giving every patron a mobile
device for free with the money saved.
• WORLDWIDE AVAILABILITY OF MEDICAL CARE
Genuine globalization will occur when it is possible
to hire a doctor in Bangalore to examine us through our mobile screen
for $10. The physician will check our temperature, blood
pressure, and heart rate, and conduct an EKG through med sensors
to our phones or at a medical kiosk. Mobile technology will
monitor populations for outbreaks of disease.
• UNIVERSAL EDUCATION
Mobile technology can bring the nation's best teachers
and top experts into every classroom and improve the quality of
education
while freeing up budgets. Skilled engineers can be trained for
the cost of a few hundred dollars a year instead of tens of
thousands. In developing nations, where approximately
one-fourth of children never finish primary school and one billion
people
remain illiterate, mobile computing will spread education where
it hasn't gone before.