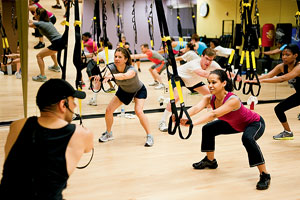 TRX
Graham's Maximum heart rate: 161
The TRX is a strap that hangs from a hook and has adjustable
handles so you can do exercises such as suspended push-ups (with your feet
in the straps) or pull-ups. A one-hour class at Crunch
Fitness, featuring aerobics and strength training, is fast-paced
and fun. Chevy Chase DC, 202-621-7622; Metro Center, 202-621-6698. Drop-in
fee $15. Free pass available online.
---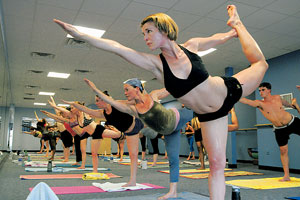 Bikram Yoga
Maximum heart rate: 165
An otherwise moderate, 90-minute yoga class at DC's
Bikram Yoga Tenleytown turns into a heart-pounding
sweatfest in a studio that's at least 105 degrees—and often higher. The
brutal heat does allow you to find your full range of flexibility. Graham
felt great the next day. 202-243-3000; dcbikramyoga.com. Drop-in fee
$18.
---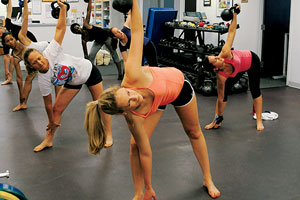 Kettlebells
Maximum heart rate: 164
A one-hour Maryland Kettlebells class offered
the best instruction we've seen using these cannonballs with handles. A
variety of full-body exercises such as windmills—deep side bends done
while holding a kettlebell overhead—develop strength and coordination, and
the intensity builds as the class progresses. Prepare to be sore the next
day. Silver Spring; 443-742-1224. Drop-in fee $20; first class
free.
---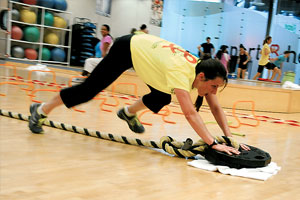 High-Intensity Training (H.I.T.)
Maximum heart rate: 163
While this one-hour class at the Northwest DC Sport
& Health Club didn't score the highest heart rate, it's
Graham's pick for the most intense: His heart rate consistently stayed
above 150 while he was performing lunges, push-ups, plyometric jumps,
calisthenics, and weightlifting in repeating circuits. Multiple area
locations; sportandhealth.com. Drop-in fee $20. Free one-week membership
available online.