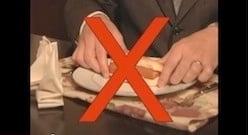 Tanya Pai, deputy managing editor
• Happy post-Fourth of July! The Awl's lists of favorite presidential foods is both revealing of their personalities and a cool snapshot of the country at the time. Then again, we already knew Bill Clinton loves his desserts. All the Presidents' Menus
• On a recent trip home I tried Froot Loops-flavored vodka, and I hope you won't judge me if I admit I thought it was pretty good. But according to HuffPo, Stoli's "Salted Karamel" vodka is nearly as offensive to the taste buds as it is to spelling. Stoli Salted Karamel Vodka Taste Test
• Brain freezes are about as avoidable in the summer as sweat stains and Channing Tatum movies, but at least now you can annoy your friends with a scientific explanation while they're clutching their foreheads. When Ice Cream Attacks: The Mystery of Brain Freeze
Jessica Voelker, online dining editor
• In Australia, a court rules that the Sydney Morning Herald's description of a disgusting oyster degustation constitutes defamation. Whew, that was a lot of alliteration. I'll let Eater explain. Australian Restaurateurs Win Lawsuit Against Newspaper Critic for Defamation
• Sommelier Levi Dalton is now contributing advice to the Bon Appétit blog. First up: a timely post on what wine to bring to a barbecue. Ask a Sommelier: What Wine Do I Bring to a BBQ?
• Already? China Has Banned Shark-Fin Soup at State Banquets
Anna Spiegel, assistant food and wine editor
• Blue Hill chef Dan Barber may extoll vegetables on his menu, but he's got no time for the "self-righteous vegetarian" phenomenon or the illusion of guilt-free eating in general. Dan Barber's Culinary Crusade
• At long last, taco locks, pineapple holders, and matching Slim Jim-Snowball chair decorations are available on Etsy. Gawker has the lowdown. Taco Locks and Other Delights From the Internet's Weirdest Etsy Store
• And because it's summer and you don't want to make a "frank faux pas": Hot Dog Etiquette, courtesy of the Queen of Wien and the National Hot Dog & Sausage Council.