Our Washingtonian Recommends lists bring you the best places to eat, drink, and be entertained—all selected by Washingtonian editors.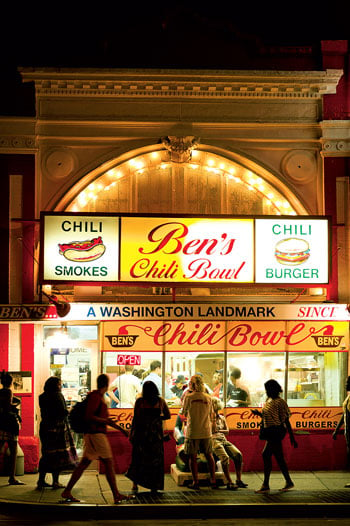 Ben's Chili Bowl
Anyone can mix into the eclectic crowd at Ben's, even though the spot's regulars have included a host of celebrities, politicians, and activists (including Barack Obama and Bill Cosby) since Ben and Virginia Ali opened for business in 1958. "The Bowl" has thrived as a local gathering place through the riots following Dr. King's assassination and U Street's transition from a crime-riddled corridor to a nightlife hotspot. Most Washingtonians will tell you: A thick shake and a chili half-smoke are as good at noon as they are at 4 AM, when last orders are taken on weekend nights. 1213 U St., NW; 202-667-0909; bens­chilibowl.com.
Gadsby's Tavern
This Revolutionary War-era restaurant in Old Town Alexandria is one of the oldest dining venues in Washington, with a building that dates back to 1785 and a guest list that has included George Washington and Thomas Jefferson. John Gadsby's original tavern has been converted into a museum, but you can still try traditional dishes such as peanut soup and mixed-meat "pye" in the adjacent building, formerly the circa-1792 City Hotel. 138 N. Royal St., Alexandria; 703-548-1288; gadsbys­tavernrestaurant.com.
Martin's Tavern
Every president (minus Obama) has visited this no-frills Georgetown corner pub since it opened in 1933, and one even popped the question here—at Martin's, you can ask to sit in the "proposal booth," where JFK asked Jackie Bouvier to marry him in 1953. The dark-wood interior and dim lighting make this a cozy hideaway in winter and a cool one in the summer, when diners also spill onto the outdoor patio. Order a traditional martini or Scotch to wash down classic pub fare such as corned beef and cabbage or meatloaf (Richard Nixon's favorite). 1264 Wisconsin Ave., NW; 202-333-7370; martins-tavern.com.
Old Ebbitt Grill
This Washington ­establishment has moved several times since it started life as a boarding house/tavern in 1856, but its latest location, near the White House, speaks to its history. Presidents Grant, Cleveland, and Theodore Roosevelt, among others, have supped at Ebbitt's, and contributed their own artifacts in the meantime. Take a spin through the rooms to see heads of beasts supposedly shot by ­Roosevelt before settling at one of the four bars for what Ebbitt does best: stiff drinks and fresh, briny oysters. 675 15th St., NW; 202-347-4800; ebbitt.com.
Tabard Inn
A successful decade is a long time in hospitality years, which makes the Tabard Inn's long run even more remarkable. The hotel has been a center of Washington social life since proprietor Marie Rogers opened the doors in 1922, hosting debutantes and soldiers, politicians and visiting dignitaries. The lounge is still a popular spot in winter for creative fireside cocktails, and the warm doughnuts at weekend brunch are a perennial must. 1739 N St., NW; 202-331-8528; tabardinn.com.