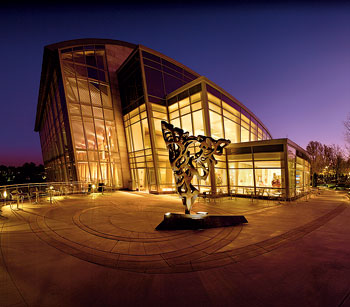 Kennedy Center
Young people ages 18 to 30 and active members of the armed services can register online (kennedy-center.org/mytix) for the Kennedy Center's MyTix program—biweekly e-mails offering discounted tickets, some as low as $10.
Over 30? Try balcony seats, which can start as low as $20. No tickets are required for most of the free performances on the Millennium Stage, which take place daily at 6 PM. Sign up for a free online account in addition to a regular e-newsletter, and the Kennedy Center will e-mail you when special offers are available in your areas of interest.
Strathmore
For budding classical music fans, Strathmore has a lot to offer. Children ages 7 to 17 can attend National Philharmonic performances free, and the Baltimore Symphony Orchestra offers college students $10 rush tickets for selected concerts. Buy them at the ticket office starting at noon on concert day; call 301-581-5100 for availability. For concert listings, go to strathmore.org.
Wolf Trap
At Wolf Trap, students can get a 50 percent discount on seats for summer National Symphony Orchestra and dance performances. Discounted tickets are available only at the box office 30 minutes before showtime. Call 703-938-2404 for ticket information from fall to spring and 703-255-1868 in summer, or visit wolftrap.org.
Classical Music
The Phillips Collection (phillipscollection.org) concerts are affordable ($20), and the concerts at the Library of Congress (loc.gov), the National Gallery of Art (nga.gov), and the Freer Gallery (asia.si.edu) are all free. Check venue websites for concert schedules and details.
Ballet And Dance
Volunteer as an usher before and after shows at DC's Dance Place, and you get to see the performance free; call 202-269-1600 to sign up, or visit danceplace.org for a performance calendar.
In the Washington Ballet's "beerballet&bubbly" program, patrons get to watch a studio rehearsal and mingle with dancers afterward over beer and Champagne. Each preview is $25 for nonmembers and usually runs before a major performance; call 202-362-3606 or visit washingtonballet.org for details.
More Theater
Theatergoers have plenty to choose from. At Arena Stage, half-price HotTix tickets go on sale at the box office 30 minutes before curtain. Students get 35 percent off regular-price tickets, and patrons under 30 can take part in the pay-your-age program, with tickets on sale three months before the ­performance date; purchase by phone or in person. The venue also hosts a number of specials, including Entourage Nights, one-night events for which groups can get 30 percent discounts (some tickets are as low as $25) and network with other theater­goers. Call 202-488-3300.
Treat kids to a night at Arena Stage with the Family Fun Pack, which offers four seats for $125; at least two patrons must be between the ages of 5 and 17. Southwest Nights offers discounted tickets on select shows to people who live or work in Southwest DC. Go to arenastage.org for show dates, or call the sales office at 202-488-3300 for more information.
Woolly Mammoth Theatre Company offers ­pay-what-you-can admission for the first one or two performances of all shows, usually Monday and ­Tuesday. Tickets are sold on a first come, first served basis and are available two hours before curtain at the box office (cash or check only). Woolly also reserves ten or more side-balcony seats for most performances at $15 each; they also go on sale two hours before showtime. Patrons age 30 and under can purchase $20 tickets a week in advance. Call 202-393-3939 for availability, or visit woollymammoth.net.
At the National Theatre, "rush" tickets are available for select shows two hours before curtain at up to 75 percent off. Students can get half-price tickets to certain performances, usually Tuesday and Wednesday evenings or Sunday matinees. Visit national­theatre.org or call 202-628-6161.
Studio Theatre sells $30 "rush" tickets 30 minutes before curtain; students can get a $15 rush ticket the day of the show. Deals are available at the box office only; visit studiotheatre.org for show listings.
At Shakespeare Theatre Company, patrons ages 21 to 35 can subscribe to the Young Prose program, which includes a full-season subscription for as little as $20 a show, as well as perks such as free ticket exchanges and priority access to special events. A limited number of $15 Young Prose single tickets are sold every Tuesday at 10 am by phone or at the box office, usually for performances through the following Sunday. Young Prose Nights, typically $30 or less, include the show and mingling time. Older patrons can try to get one of the discounted preview tickets, though numbers are very limited. Certain seats in Sidney Harman Hall are always $20; the "C" or "D" seats, which usually have an obstructed view of the stage, are cheaper as well. The company also holds occasional open rehearsals for free. Call the box office at 202-547-1122 for availability, or visit shakespeare­theatre.org for more information.
Ticketplace offers half-price tickets to performing arts events, bought in advance or on the day of the performance. They're available at 407 Seventh Street, Northwest, or at culturecapital.tix.com. The booth is open Wednesday through Friday 11 to 6, and Saturday 10 to 5. Sales are by American Express, MasterCard, or Visa only; the service fee ranges from $3 to $8.50, ­depending on ticket price.
Another online source of discounted tickets is Goldstar, a nationwide half-price-ticket service that works with local venues such as Arena Stage and the Kennedy Center. Go to goldstar.com to sign up for a free membership and to browse shows.