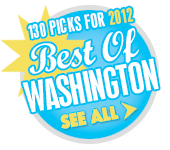 Best Brunch
Tabard Inn. Freshly fried doughnuts,
tasso-topped eggs Benedict, clever craft cocktails—brunch on Tabard Inn's
sunny, brick-walled patio near DC's Dupont Circle is a sinfully delicious
weekend splurge.
Also popular: Kafe Leopold & Konditorei, Founding Farmers,
Busboys and Poets.
Best Food Truck
Curbside Cupcakes. With creative flavors such
as Almond Joy and Black Irish Cream, it's no wonder this confectionery on
wheels—circulating in DC, Arlington, and Montgomery County—attracts long
lines of midafternoon sugar-seekers.
Also popular: Rolling Ficelle, Red Hook Lobster Pound, Basil
Thyme.
Best Barbecue Joint
Rocklands Barbeque and Grilling Company.
You'll come for the smoky brisket and baby back ribs, but you'll
stay for such homey sides as Texas corn pudding and barbecue baked beans.
Four area locations.
Also popular: Carnivore BBQ, Hill Country, Smoke &
Barrel.
Best Burger Spot
Five Guys. What started as an Arlington
carryout burger joint in 1986 can now be found in 46 states, DC, and six
Canadian provinces, thanks to its craveable burgers and consistently good
fries.
Also popular: Ray's Hell-Burger, BGR the Burger
Joint.
Best Pizza Place
2 Amys. The Neapolitan-style pizza at this
popular restaurant in DC's Cleveland Park is a perennial favorite with
Washingtonians.
Also popular: Matchbox, Pete's New Haven Style
Apizza.
Best Bar-Food Menu
Logan Tavern. This neighborhood eatery's
blue-cheese-topped Buffalo shrimp is a favorite with Logan Circle
happy-hour noshers.
Also popular: Vinoteca, Galaxy Hut.
Best Happy Hour
La Tasca. A thirsty after-work crowd flocks to
La Tasca's four area locations for boozy sangría, selected draft beers,
and house wines—all less than $5.
Also popular: Rocket Bar, Eighteenth Street Lounge.
Best Outdoor Dining
Lauriol Plaza. Frozen margaritas and a rooftop
overlooking DC's 18th Street are the draws at this Tex-Mex institution
between Dupont Circle and Adams Morgan.
Also popular: Guapo's (in DC), Travinia, Sequoia.
Best Rooftop Bar
The Reef. Like your craft brew with a view?
The Adams Morgan watering hole has both.
Also popular: POV at the W Hotel, the Red Derby,
Perrys.
Best Hotel Bar
Quill. This elegant hideaway tucked inside
DC's historic Jefferson hotel is an ideal spot for your next
tête-à-tête.
Also popular: POV at the W, Round Robin at the
Willard.
Best Coffee Shop
Starbucks. With hundreds of area locations,
Starbucks knows how to keep Washington caffeinated.
Also popular: Tryst, Northside Social, Filter.
Best Frozen Yogurt
Pinkberry. Though this Los Angeles transplant
has been swirling its trademark tart-and-tangy yogurt in Washington for
only a little over a year, its seven area locations already have legions
of fans.
Also popular: FroZenYo, Yogiberry.
Best Candy Store
Chocolate Chocolate. Founded by a pair of
chocoholic sisters, this sweet spot on downtown DC's Connecticut Avenue
has been creating confections since 1984.
Also popular: Godiva, Candi's Candies, Thomas
Sweet.
Best Local Chef
Geoff Tracy of Chef Geoff's. Tracy's chainlet
of friendly, approachable bistros has made this Georgetown University grad
a local culinary hero.
Also popular: José Andrés, Mike Isabella.
Best for Manicure/Pedicure
Modern Nails. You can unwind with a nail
treatment at this Virginia mall-based chain after a shopping
excursion.
Also popular: Blu Water Day Spa, Ivy Nail & Spa, Elizabeth
Arden Red Door Spa.
Best Hair Salon
Bubbles. Wallet-friendly prices make these
salons a popular choice for beauty on a budget.
Also popular: Simply Bliss Salon, Hair Cuttery, PR at Partners,
Bang Salon.
Best Gym/Yoga Studio
Unity Woods. Washington's oldest yoga studio
now boasts three locations and a reputation as one of the country's most
respected yoga centers.
Also popular: Gold's Gym, LA Fitness, Dahn Yoga.
Best Walking/Biking Trail
Mount Vernon Trail. A favorite with cyclists,
this paved path winds along the Potomac River for nearly 18 miles, from
Rosslyn to George Washington's estate.
Also popular: Capital Crescent Trail, C&O Canal
Trail.
Best Spot for Free Wi-Fi
Starbucks. Washingtonians like their Web
browsing with a side of skinny vanilla latte (no whip).
Also popular: Northside Social, Panera Bread.
Best Public Fountain for Cooling Off
Dupont Circle. Though it's surrounded by a
parade of Metrobuses and honking cab drivers, the fountain is surprisingly
serene.
Also popular: World War II Memorial, National Gallery of Art
Sculpture Garden.
Best Picnic Spot
Great Falls Park. You'll find plenty of scenic
spots to lay down a blanket in this 800-acre park along the
Potomac.
Also popular: Riverbend Park, the Mall.
Best Local Columnist
Eugene Robinson and Ezra
Klein (tie). Readers couldn't choose between the two respected
Washington Post columnists.
Also popular: Dana Milbank, Tom Sietsema.
Best Local Sportswriter
Thomas Boswell. You can't get much more local
than Boswell—the native Washingtonian has been with the Post his entire
career.
Also popular: Dan Steinberg, Sally Jenkins.
Best Local TV Anchor
Jim Vance.No surprise—the Channel 4 anchor has
been a perennial reader favorite for years.
Also popular: Doreen Gentzler.
Best Local Radio Personality
Hot 99.5's Kane. Kane and his crew have been
keeping commuters entertained since 2006.
Also popular: Kojo Nnamdi, Elliot Segal.
Best Local Blog
DCist. Authored by an ever-growing network of
bloggers, DCist has made a name for itself since launching in the fall of
2004.
Also popular: Bitches Who Brunch, Prince of Petworth, Capitol
Hill Style.