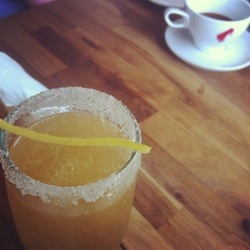 I've been out drinking a lot of cocktails over the past few months. Quite a lot, if we're being honest. Some of them were not so good, some of them were great. Here are five of the latter.
Champagne Crusta at Bistro Bohem
This riff on the classic brandy crusta (Cognac, orange curaçao, lemon juice, bitters) is the only cocktail on the wee Czech restaurant's brief brunch menu, and it's excellent. Bar manager Mark Reyburn shakes Ragnaud-Sabourin Cognac with Cointreau and lemon juice, pours the contents into a sugar-rimmed flute, and tops the drink with the semisweet sparkling wine Russkoe Igristoje—it's a light, lovely way to start a Sunday.
Almost Home at Columbia Room
Katie Nelson offered up this invention—dreamed up on a cab ride home, thus the name—at a recent Columbia Room class on honey (the Seventh Street lounge keeps a beehive on the roof). She starts by heating honey and infusing it with lavender. This is combined with crisp Manzanilla sherry and Yamazaki 12 Year, a bright Japanese whiskey. You have to reserve a stool in advance at this tiny libations spot (and keep in mind it will be closed briefly this month), but there's magic happening behind that bar.
Hemingway Cocktail at Brasserie Beck
The Hemingway—a warm weather favorite with rum, maraschino liqueur, grapefruit juice, lime juice, and simple syrup—isn't original to Brasserie Beck or anything, but the one I recently tried at Robert Wiedmaier's downtown restaurant reminded me what a perfect rendition tastes like.
Manhattan Love Story at Unum
The cozy bar at this Georgetown restaurant would be a great place to hang out even if it didn't serve up several really good drinks. The best of the lot is the bracing Manhattan Love Story, with Maker's Mark, dry sake, Domaine de Canton, and Peychaud's Bitters. I think of a Manhattan as a winter drink, but the ginger from the Canton and the subtly floral Peychaud's lighten things up for summer. It's just a really smart drink, and the bar gets extra points for consistency.
Carte Blanche at the Wine Kitchen
You have to go to Frederick—or Leesburg—to get to one of the Wine Kitchens, but it's worth it. Walking into the Frederick location, I saw that the bartender was carefully measuring and combining ingredients using a shiny toolkit of jiggers and strainers, and there was a small shelf of bottles that closely resembled my Christmas list last year. (Another good sign: a small bottle of the very good Dolin vermouth in the fridge.) But about that drink: It's a greenish concoction that combines Hendrick's gin, orange bitters, cucumber, and sparkling wine. Delightful.