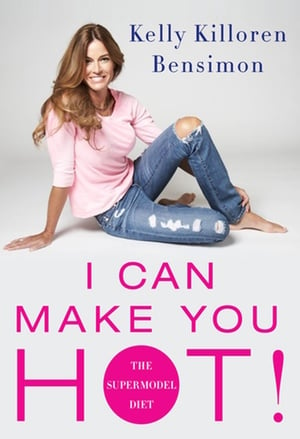 Kelly Killoren Bensimon may be best known for the three seasons she spent on The Real Housewives of New York City. But the 44-year-old mom of two, model, and former swimmer is now the author of I Can Make You Hot!: The Supermodel Diet. Before her book signing tomorrow at the Avenue Suites in Georgetown, Bensimon took some time to chat with us about the health and nutrition secrets she's learned over the years and the one diet she will never, ever try again.
A 2009 article in Harper's Bazaar referred to your great legs. What's your favorite leg exercise?
My favorite leg exercises are squats and lunges. They just really tone up the inner and outer thighs and lift the buttocks, as well. When your butt muscles are toned, your legs look leaner.
What is the worst mistake you've made in your life healthwise, and what did you learn from it?
There are two mistakes: One is skipping meals and the other is fasting. Both of those do the same thing—every time you skip a meal or fast, you're jarring your metabolism, which causes you to gain weight.
In your book you mention a bunch of diets you tried as a model. What's the one diet that just did not work at all?
The white diet. I ate oatmeal in the morning and rice at night. I learned about the white diet when I was modeling in Paris. Another model told me if you ate the same thing for two weeks straight you would lose weight. So I told myself, "Let's mix it up. Let's do oatmeal in the morning and rice at night," which did not make me thin. First of all, it was boring. Second of all, I got fat. Fat and bored together are not good.
You recommend to your readers that Sunday should be one's guilty-pleasure day, the one day a week you get to eat whatever you want. Couldn't that be a bad idea?
I don't think it's ever a bad idea to do what you like—it's a bad idea to do what you like too much. I'm not encouraging you to eat all the hot dogs in your fridge. I am encouraging you to have a hot dog at the game. I'm encouraging you to live your life and make good food choices.
So how do you like to indulge on Sundays?
I love my mom's Irish soda bread, which she used to make on Sundays after I did well in swim meets. I love the pizza I make with the girls, and guacamole and homemade chips. I love doing anything with my kids, and cooking is a good way for them to learn responsibility and how to take care of themselves, and for us to share and make memories.
You also recommend drinking a warm liquid, such as miso soup, before a meal to feel full faster. How does that work?
When you're hydrated, you're less hungry. Miso soup has a lot of sodium, but it's hydrating, and it helps with digestion and fills you up quicker. But do you need to have a bowl of soup with every meal? No. Instead, you could have a glass of water without ice in it before you start a meal.
You say to exercise for 20 minutes every day. What's your go-to 20-minute workout?
There are so many great opportunities to work out now. But for me, I've always turned to running because it's super easy. It doesn't cost anything—you just put on your shoes and go. I also spent a lot of time as a swimmer, and swimming is such a good overall workout.
In your book you say that you lost 50 pounds twice. When did that happen and how did you manage that?
[Laughs] When I got pregnant with each daughter, I gained 50 pounds. Most people in my position would really watch their diet and eat crazy foods and exercise like a maniac. For me, having children and being able to bear children was such an incredible luxury. I wanted to be a vessel for them and not exercise and diet while pregnant. As a result, I gained 50 pounds. Believe me, it wasn't easy [losing weight] and having an ex-husband photographing models all the time. But for me, wanting to take care of myself is a really big part of who I am. I like to say I lost the weight gracefully—when my one daughter was five months old people were asking me, "Are you still pregnant?" But you know what? I have great, healthy kids, and I'm healthy at 44. I treat my body well, and as a result it looks good.
Bensimon will be at Modus Hotels' Avenue Suites (2500 Pennsylvania Ave., NW) on Wednesday from 6:30 to 8:30 PM for a book signing. Tickets ($39) are available via Gilt City and include cocktails, hors d'oeuvres, and a copy of Bensimon's book.