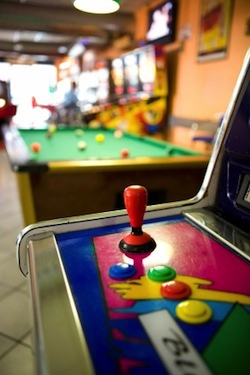 Wayne Rhice was bored with sitting and drinking at bars.
"I wanted to do something different, and I thought I'd incorporate people being active,
going out, and . . . being social," he says. So he started the Adult Social Circle
DMV Meetup Group as a way to get twentysomethings to do just that. One of the group's
recurring activities is a trip to Dave & Buster's, a restaurant and bar that features
a variety of video games. "[Video games] are actually a great way to mingle with people,"
Rhice says. "It's a great ice breaker, but it's really nonexistent in the area."
Mixologist
Erik Holzherr is changing that. The owner of Wisdom
and Church & State recently converted his H Street hangout Fruit Bat into an arcade
with a bar (or a bar with an arcade, depending on where your priorities lie). It's
called Atlas Arcade, which Holzherr jokes allows patrons having a drink upstairs at
Church & State to say, "After Church, we'll go to AA."
Holzherr's spot was originally going to be called Barcade. But a bar with the same
name in Brooklyn sent Holzherr a cease-and-desist letter. "I knew the Barcade in New
York. I'm from there. I've been there," Holzherr says. "But no one's trying to go
to Barcade in Brooklyn and ending up on H Street."
To pick a new name, Holzherr held a contest through Frozen Tropics
and received 240 responses in three days. Many of these showed the Washington area's
excitement for bars featuring video games. "[There were] a bunch of super-esoteric
names for only hardcore gamers," he says. In the end, he went with the simple Atlas
Arcade and gave the contest winner $150 in quarters.
The bar's first weekend proved what the contest hinted at: The concept is a hit. Lines
snaked out the door long after midnight on Saturday. Atlas Arcade currently features
a plethora of games such as
Teenage Mutant Ninja Turtles, Donkey Kong, Golden Axe, and
Gauntlet. The crowd, Holzherr says, is mostly made up of twentysomethings—who "don't want
to or can't afford to pay $13 for a martini, and this appeals to their budget"—and
older folks drawn to the '80s nostalgia of the bar/arcade.
Atlas is a welcome relief to people like Rhice, who says he still wouldn't mind a
few more options. Rhice says he enjoys Dave & Buster's and Rocket Bar for their video
games, and he sometimes pops over to Tilt, an arcade in the Ballston Common Mall.
But the Tilt, he says, is "crumbling" and on its last leg.
Gamers looking to have a drink while playing could hit Bedrock Billiards, which has
a Wii connected to a 60-inch screen, or they could visit the Alexandria beer bar Galaxy
Hut, which features old video games like
Pac-Man in many of the tables. And there's always the Smithsonian's "Art of Video Games"
exhibition,
which has five playable games (Pac-Man, Super Mario Brothers, The Secret of Monkey Island, Myst, and
Flower) and runs through September 30.
Ajax Amusements in Herndon allows customers to bring their own drinks and play a variety
of old arcade games and pinball machines. Bonus: All the games are for sale, as well.
And now there's Holzherr and his Atlas Arcade.
As Holzherr told Best Bites Blog earlier this month,
he was "trying to build a bar
that would make my 14-year-old self think I grew up to be the
coolest adult in the
world."