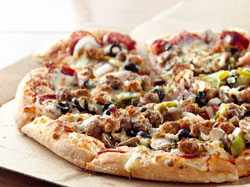 Memo to thugs who order pizza and then stick up the delivery man: Refrain from taking
photos of the food, because cops might find them and use them against you.
Last December, two days after Christmas,
Melvin Woodard,
Rojay Ball, and a third man phoned a Papa John's restaurant and placed an order for three pizzas,
chicken wings, and cinnamon bread dessert. They gave the address as Varnum and Sixth
Place, Northeast, in DC's eastern end.
Here's what happened next, according to federal prosecutors: The three man pulled
black ski masks over their heads and armed themselves with pistols. When the pizza
delivery man arrived around 10 PM, they stuck the pistols in his face and demanded
cash. He gave up more than $200 and his cell phone. The three men took the fast food,
too, of course.
With their booty, they walked one block north to a house, where they settled in for
a late-night snack. But before they ate the pizza, wings and pie, they took a cell
phone picture of the stolen food. Then they ate.
Two days later, according to US Attorney
Ronald Machen, police executed a search warrant on the house on the 4400 block of Sixth Place.
Either someone must have witnessed the robbery and alerted the police, or detectives
did a good job of investigating the case. Police recovered the ski masks, guns, and
gloves worn during the crime.
They also found a cell phone and checked its camera roll, where they found photos
of the feast.
The good news is that no one was injured during the pizza heist, and police and prosecutors
did a solid job bringing the bad guys to justice.
The bad news is that Woodard, 20, and Ball, 19, received relatively light sentences.
Both pleaded guilty to armed robbery and carrying a pistol without a license, both
felonies. Superior Court judge
Heidi Pasichow sentenced Woodard to four years. She gave Ball four and a half years, because he
also pleaded guilty to threatening a witness.
And where is the third robber? He either talked or he's on the loose. Perhaps police
have his picture.