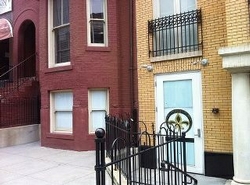 When sandwich folks talk about po' boys, they often say it's all about the bread. "The first thing people ask is, 'What kind of bread are you using?'" says Cam McNair, who, along with Justin Snyder, owns New Orleans Po Boy Shop at 1205 19th Street, Northwest, set to open any day now. New Orleans food critic, author, and radio host Tom Fitzmorris agrees that bread is of the utmost importance when judging a po' boy.* The traditional bread is French rolls baked by the NOLA-based German bakery Leidenheimer Baking Company. "New Orleans French bread, historically, was baked by Germans," says Fitzmorris. French bread baked by the French is far denser and crunchier, not "cavernous" like the stuff New Orleans residents have come to know.
McNair considered Leidenheimer bread but it would have arrived already baked, then shipped frozen. For something fresher, he opted to buy his bread half-baked from Gambino's Bakery in New Orleans suburb Metairie, best known for its king cakes. He'll finish the baking process in-house. According to Fitzmorris, frozen bread works fine on a po' boy, provided sandwich makers wet their hands and run them over the bread before baking. Still, he says McNair's choice to go with Gambino's is an interesting one, and thinks it could work well.
But there's more to a good po' boy than bread—proteins, for one. McNair is making his own andouille sausage, and says he's getting as many of the ingredients as possible from Louisiana, including oysters and shrimp. But while fried seafood sandwiches get much of the po' boy glory, roast beef is the most popular order in the Crescent City. McNair opts for the method of slow-cooking chuck roast for hours and serving it in chunks and shreds known as "debris."
The next important thing, as any New Orleans native will confirm, is how the sandwich is "dressed." That's the word for the basic toppings on the sandwich. McNair will dress his po' boys two ways: with lettuce, tomato, and mayonnaise for non-New Orleanians; and with lettuce, tomato, pickles, and mayonnaise for those hailing from the Who Dat Nation. Fitzmorris points out that the latter is the traditional way to dress meat po' boys—roast beef, ham, turkey—but seafood po' boys should be dressed with butter, pickles, and hot sauce. In New Orleans, however, most vendors have moved away from that combination.
McNair, whose New Orleans pedigree includes stints working for big-name chefs and restaurateurs including Emeril Lagasse and the Brennan family, says he has missed the iconic sandwich since moving to the land of hoagies and subs. "If I can get compared to any true New Orleans po' boy shop, I'll be a happy man," says the chef. Based on the feedback from Fitzmorris, it seems like he's on the right track.
* A note about spelling: Fitzmorris points out the actual name of the sandwich in question is "poor boy," named after the striking streetcar workers who would pop into Martin's Restaurant, which promised to feed them for free as long as they were on strike. Fitzmorris admits New Orleans natives do use "po-boy," and punctuate it pretty much every way except the Associated Press-sanctioned "po'boy."
"'Po'boy' is ridiculous. There's nobody here who spells it that way. I love it when New Yorkers just make things up about other places," he says.