There are plenty of biking trails surrounding the Washington area, but it can be tough finding one that's not already overpopulated with runners, walkers, and strollers. The five following trails come recommended for and by avid cyclists, with tips from Mary Gersemalina of Chasing Mailboxes and Dave Kirkpatrick of November Cycles on the best times to ride and what kind of tires to use.
Keep It Local: The Zoo Review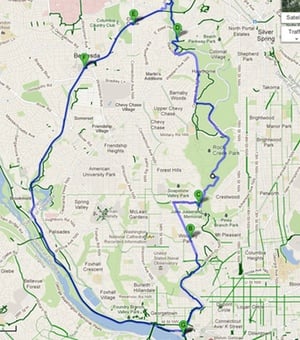 DC and Maryland
Distance: 20 miles
Known as the Zoo Review, this loop is only open to cyclists on weekends. Gersemalina recommends hitting the trail as early as 6 AM to avoid congestion. It's a great tour through DC and allows for plenty of stops along the way, including the National Zoo. The Zoo Review typically starts at Rock Creek Park, but she recommends starting in Georgetown.
1. Start in Georgetown at Thompson Boat Center under the bridge on K Street. Ride east until you intersect the path on Rock Creek and Potomac Parkway.
2. Head north. Ride under Connecticut Avenue, through the National Zoo, and past Peirce Mill.
3. After Peirce Mill, leave the path and get onto Rock Creek Parkway.
4. Continue past Meadowbrook Stables into Bethesda.
5. Take the Georgetown Branch Trail until it meets the Capital Crescent Trail.
6. Take the Capital Crescent Trail and ride downhill back to starting point.
Hit the Mountains: Fountainhead Trail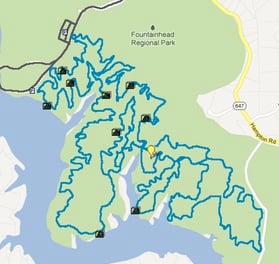 Fairfax Station, Virginia
Distance: 8 miles
Kirkpatrick recommends this eight-mile trail at Fountainhead Regional Park in Fairfax only if you have a mountain bike. The good news is that the trail is marked well, so it's not likely you'll get lost. Just note that there are some areas where you'll have to step off the bike and walk, and be aware of the five sections marked "dangerous downhill." Says Kirkpatrick, "It's pretty G-rated in terms of surprises."
For a Real Adventure: Patapsco Valley State Park Mountain Bike Trail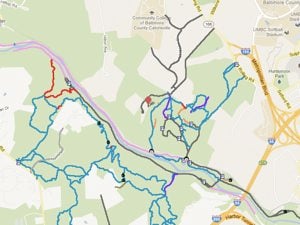 Ellicot City, Maryland
Distance: 20 miles
With Patapsco's trail, which requires a combination of mountain and road biking, Kirkpatrick says cyclists can spend a whole day and never hit the same spot twice. The trail runs through the Avalon area of the expansive park. You'll cruise past remains of a mill town while being challenged on the many rocky ascents.
For an Autumn Getaway: C&O Canal to White's Ferry
Distance: About 38 miles
This is Gersemalina's favorite long local ride during the fall or winter. While the C&O Towpath can get really crowded, Gersemalina says once you pass that trail and Great Falls, it gets less populated. She recommends riding a bike with wider tires and avoiding the C&O after a recent rain. A plus: The route has no stoplights.
1. Start at mile marker 0 of the C&O Canal in Georgetown.
2. Ride the C&O past Great Falls and out 35 miles to White's Ferry.
For a Leisurely Ride: DC to Old Town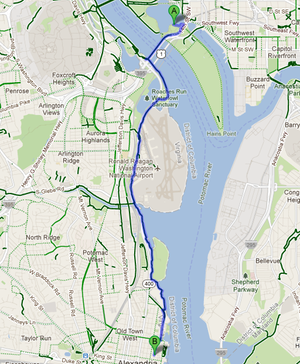 Distance: 6 miles
Approach this ride with some patience and Zen, Gersemalina says, especially with the heavy DC traffic on weekends. Still, the six-mile trek from DC to Alexandria is easy enough, and you'll pass Gravelly Point and the National Airport, and be able to bike along the water.
1. Start at the Jefferson Memorial.
2. Cross the 14th Street Bridge and head south until you reach Old Town.
Pick up our August 2012 Great Day Trips issue to learn about another popular seven-mile route on the Mount Vernon Trail.
Do you have a favorite bike trail in Washington? Share it with us in the comments section.