When guests arrived at Evermay Estate on Friday evening there was a certain amount
of oohing and ahhing. First-timers and return visitors alike were eager to see the
newly decorated public rooms and the expansive garden. Ogling was to be expected in
this grand early-19th-century mansion that has captured public imagination for years,
but especially since last year, when it was bought by Japanese medical entrepreneurs
Ryuji Ueno and
Sachiko Kuno. The couple were there
to greet the guests, to welcome them into what will eventually be their home but for
now is where they celebrate their love of music.
Ueno and Kuno, through their S&R Foundation, last month launched a series of concerts
at Evermay called Overtures. They feature performances before a small audience by
promising young musicians, mostly but not exclusively Japanese. The concerts take
place in the mansion's largest room, probably once a ballroom, which has the intimate
feel of a "salon," bathed in light by a series of floor-to-ceiling arched windows.
The music against the backdrop of the elegant garden views is a special pairing.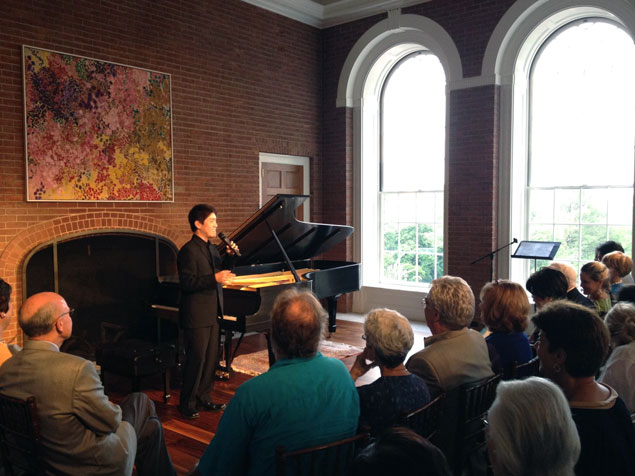 On Friday the performer was pianist
Ryo Yanagitani, who put together a program of mostly rousing Chopin along with some contemplative
Debussy. His resume is packed with accolades and awards, plus a Yale School of Music
master's and a doctoral degree on the way. He is a professor of piano at the University
of British Columbia in Vancouver. He's also a good showman—he likes to tell a story
or two to add context to the music. His considerable skills were a nice match for
the room and the view. If there's anything to quibble about, it has to do with the
room and not the performer. The many hard surfaces—large glass windows, wooden floors,
bare brick walls—don't offer much absorption, making the music perhaps too rousing.
The owners may want to consider some sound baffles or even a few rugs.
The next, and last, concert features violinist
Tamaki Kawakubo this Friday, August 17. It's currently sold out, but it's worth checking the website for possible cancellations. Kawakubo has played with
the Russian National Orchestra, the Moscow Radio Symphony, the Tokyo Metropolitan
Symphony, the Tel Aviv Chamber Orchestra, and the Yomiuri Symphony Orchestra. She
made her Kennedy Center recital debut in 2009. Sachiko Kuno said she plans to resume
the Overtures concerts in the winter.
Tickets for the concerts cost $50 and include the performance, plus a reception with
wine and beer before the program and a light buffet after. It's an altogether easy
and relaxing evening. Given the parking headaches of Georgetown, it's worth noting
that Evermay has valet parking on the grounds.