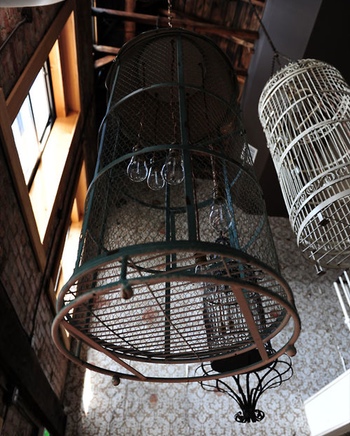 With all the Restaurant Week promotions you may be dined out for the week, but here's a new place to consider: Le Grenier, the latest addition to H Street, debuting on Sunday at 5.
The modern French eatery comes courtesy of the team behind Le Chat Noir in Friendship Heights. That restaurant, which opened in 2005, leans more traditional with an older neighborhood crowd; co-owner Sam Ziar says they're aiming for a younger, more relaxed vibe with their 45-seat Atlas District eatery.
The name, which translates to "the attic" in French, may not immediately scream twenty- and thirtysomethings, but the decor is a far cry from mothballs and hatboxes. A marble-topped 13-seat bar greets you on the ground floor, perfect for sipping cocktails like the Hendrick's gin-based "H Street Side" flavored with mint, cucumber, and rosewater. Grab a seat upstairs for dinner overlooking funky birdcage light fixtures, which enhance what Ziar describes as an "attic-romantic" aesthetic.
Fitting with the theme, the menu leans more Northern French than the Southern-influenced offerings at Le Chat Noir. You'll find classics like frog's legs and steak frites, as well as a number of stews in winter and crepes for dessert. Next week, chef Thierry Sanchez, who also oversees the Friendship Heights kitchen, is slated to debut brunch service.
Le Grenier. 502 H St., NE; 202-544-4999. Opening Sunday at 5 PM.