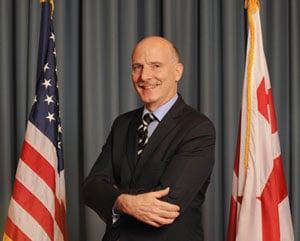 Phil Mendelson could be called the DC government's Gerald Ford, who became president without being
elected to either the vice presidency or the presidency. Mendelson was named DC City
Council chairman by his colleagues after the resignation of
Kwame Brown, who faced fraud charges, and serves embattled mayor
Vincent Gray, who is mired in a federal campaign finance investigation, and who may resign, making
Mendelson acting mayor.
The role of chairman was given to Mendelson in June. He's on the November 6 ballot
to win it officially from the electorate. There are a few challengers on the ballot,
but he is expected to win by a comfortable margin. Mendelson was first elected to
an at-large council position in 1998 but has been involved in local politics since
1975, when he joined the activist McLean Gardens Residents' Association and served
as an ANC commissioner. In the council, he is chairman of the Judiciary Committee
and serves on the committees that oversee Jobs and Workforce Development; Libraries,
Parks, Recreation, and Planning; Public Service and Consumer Affairs; and Redistricting.
His most recent legislative proposal is to loosen the strict DC gun laws for nonresidents
and residents who commit two minor violations and who have a clean record.
Because it's not yet possible to write a political story about Washington without
mentioning race, it can be noted that he's only the second white politician to be
council chairman. If he were to become acting mayor he would be the first Caucasian
to hold that job. In the event that Gray resigns, Mendelson could run for mayor in
a special election. Other council members, including
Jack
Evans,
Michael
Brown, and
Tommy
Wells, have expressed an interest in running for mayor in either a special election or
the next scheduled election in 2014.
For much of this week, Mendelson is in Charlotte, North Carolina, representing his
city and his party at the Democratic National Convention. Before he left, we interviewed
him in his large and impressive Wilson Building office. His chief of staff,
Denise Tolliver, joined us, though Mendelson did all the talking, if sometimes haltingly, as he occasionally
thought deeply before answering.
If you had to summarize DC's summer of 2012 in terms of politics, what would it be?
A mess.
What do you see as the critical issues facing the city council when it returns from
recess on September 15?

Ethics is the number one issue politically. It's not that there's a legislative piece
that will solve the ethics problem, but we need to address ethics and improve the
public's trust in the government. I would say that's the number one issue. There are
plenty of legislative issues on the plate. An important issue I'm dealing with is
public education.
Some members of the council are up for reelection, and you are running for chairman.
Do you think the various election efforts will be a distraction?

At all? Yeah. But that's part of political life. It's unavoidable.
How would you describe the attitude of the DC electorate? Would they even come to
the polls were it not for the presidential race?

Oh, that's hard to say. I think voters are angry, and that makes for one of two possibilities:
They come and speak their minds at the ballot box, or they stay home.
Marion Barry called the city the "laughingstock of the nation," due to the corruption
scandals. How do you overcome a general distrust and cynicism toward the leadership
of the city, which includes you . . . and Barry?

It takes time to rebuild the trust. Calling the district a laughingstock is overstating
it. What's fundamentally at issue is that voters are unhappy, rightfully so, with
what they see as betrayal of the public trust.
Do you feel comfortable in the job?
It's difficult. I'm comfortable with the job, but I have new and different responsibilities.
It'll take some time to get into a groove.
In previous interviews with a handful of council members, there was general praise
for DC's overall strength and well-being. And yet you felt it was necessary to go
to New York to have a meet-and-greet with Wall Street. Why?

I went to New York because the chairman of the council is always a member of the team
who meets with rating agencies—and given the resignations, including the chairman's,
I felt it was important to introduce myself to them.
Right now, Washington is two cities. One is politically a mess, and people are very
unhappy with their government. The other city is vibrant and booming, and people are
very happy. It's almost as if there isn't enough nightlife, enough recreational and
commercial activities. That's a very unusual combination. The ratings agencies are
concerned about the vitality of the city because that reflects our ability to finance
what we do.
Have you and Mayor Gray had any heart-to-heart talks, or even leader-to-leader talks,
about the US Attorney's investigation and what might happen if Gray is indicted?

Not to the extent that you're asking. I've talked to him about the political situation.
Can you share anything?
No.
When the Gray investigation is resolved, one way or another, what will be the best
way to mend the rocky relationship between the city's leaders and its citizens?

It's a function of time, and of elected officials staying out of trouble, doing the
work we were elected to do. When we are busy swearing at one another, that's not what
folks elected us to do. The longer we go without being angry at each other publicly,
the more distant the memory will be, and the trust will rebuild.
Do you think the prosecutor, Ronald Machen, needs to speed up the investigation?
The prosecutor needs to be thorough, and that takes time, but I wish it would happen
quickly. I'm uncomfortable with this because we don't know where the US Attorney is
going to go. I'm fairly certain from the press reports I've read, and that everyone
else reads, that there will be some more individuals indicted, and each one of those
will be very traumatic for the body politic.
So you have reason to believe the mayor will be indicted?
I can't make a prediction in regard to the mayor, but there will be something more,
based on names already in the news.
The sooner the US Attorney completes his work, the sooner these investigations and
consequences are behind us.
Is it at all ironic that a mayor under investigation for campaign fraud would propose
legislation for campaign finance reform?

Everybody in elected office is struggling with whether we've got it right in terms
of our disclosure laws with money and politics. We need to keep looking at whether
there's more we can do.
Your job is like a marriage, in that you have taken a vow to lead. What is your mandate
with the city, in sickness and in health?

I like the way that's worded. I don't know what to do with it, though. I'm committed
to the city, but I'm also committed to the institution of the council. That involves
doing the best I can, not only for individual citizens but also with the institutional
position I hold. I'm here for the city, regardless.
If you had to become mayor tomorrow, would you be ready?
Yes.
What is your relationship with Congressman Darryl Issa, who chairs the congressional
committee that has DC oversight?

I'm trying to meet with him. I want to build a constructive relationship. It's important.
But has Issa been more supportive than might be expected from a Republican member
of this Congress?

He's been supportive in a number of ways, and that's important. The reality is that
we ought to have budget autonomy, and the Voting Rights Bill should have been passed
a few years ago. I don't want anybody to read this as criticism, but those are short-term
goals. I don't want to say he's been a super friend when we haven't gotten what we
need and what we ought to have.
If Mitt Romney were to win the White House, what would DC have in store?
The world didn't come crashing down on the District the last time there was a Republican
in the White House. At the same time, there were a number of pressing issues and needs
that were not resolved.
Schools opened this week. What grade do you give to school superintendent Kaya Henderson
and the school system?

As long as the test scores are below 50 percent the school system can't get a passing
grade. I want to build a relationship with Kaya Henderson and see . . . [pause] .
. . I feel very impatient about [achieving] much greater progress in regard to improving
educational outcomes for our kids.
You have a daughter, Adelaide, in the public school system. What have you learned
about DC schools from that perspective?

What I have learned is confirmation of the struggles parents go through that they
shouldn't have to go through. I've seen the enormous anxiety parents feel when a new
principal needs to be found, and the anxiety when school programs are canceled. All
that anxiety is preventable.
I also should say that my daughter has been very fortunate to have good teachers.
She's in the seventh grade [at Alice Deal Middle School]. People who aren't familiar
with DC Public Schools think the whole system is failing and every teacher is rotten,
because that's the publicity. It's very far from the truth. There's some good teaching
and education.
In an interview, DC Police Chief Cathy
Lanier
said the big issue with schools is not crime but truancy. Do
you agree? Is it a priority
for you?

Truancy is an enormous problem. It is a priority. It's one of my three priorities
for public education this fall. I'm in a unique position because as chair of the Judiciary
Committee, I also chair the committee that has oversight on education. I can address
truancy through the council from both perspectives. But the problem is enormous. In
some schools it is more than 60 percent. Those kids can't possibly succeed in society.
The greater the progress we can make in addressing truancy, the greater progress we
can then make in reducing juvenile crime, in reducing many of the social problems
we deal with among adults. Truancy is a way of identifying kids at risk. We can look
at it as a problem or as an indicator. The latter helps us identify those kids with
whom the government needs to intervene.
Does DC have the resources?
We've got to. I think we do, because we spend an enormous amount of money in the adult
correctional system. It's cheaper to deal with them as kids, when the only issue is
missing school.
Do you plan to continue the "sidewalk office hours" that you started as an at-large
council member now that you are serving as chairman?

I was thinking about that the other day. It's going to be harder. But I'd like to
continue. I look for opportunities to get out in the community. It's important, but
it's also more difficult.