"I'm curious: What is it that makes you want to profile me?"
Johnny Monis's question took me by surprise.
In the past five years, no chef in Washington has been more celebrated by critics, more sought-after by diners, or more envied by his peers than Monis, who at age 24 opened his marquee restaurant, Komi, and quickly vaulted into the stratosphere of elite American chefs. A 14-table temple to Monis's interpretation of Greek cooking, Komi is one of the most acclaimed restaurants in the region. Food & Wine declared Monis one of America's best new chefs in 2007, and he has twice been a finalist for the coveted James Beard Award for best chef in the Mid-Atlantic.
Why did I want to write about him? Why wouldn't I want to write about him? As a profile subject, Monis was a no-brainer.
The only person who didn't agree was Monis.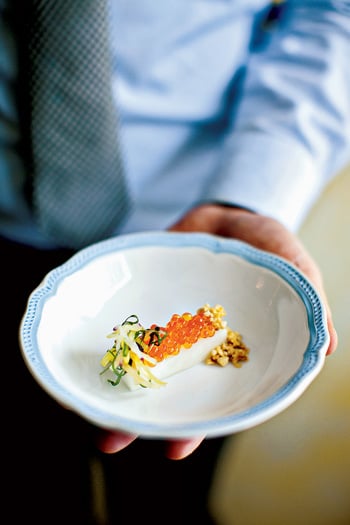 Compared with many of today's press-hungry restaurateurs, Monis, 33, is a recluse. He doesn't come out of the kitchen to glad-hand patrons. He'll pose for the occasional photo with food worshipers who have waited weeks for a table, but that's the only time he lifts the dining-room ban on cameras. Ruth Reichl, the former editor of Gourmet, once tweeted in ecstasy over her dinner at Komi, but she did it from the restroom, says one of her dining companions.
Monis also doesn't write cookbooks. He doesn't lend his name to a line of kitchenware. Unlike some of his four-star peers—and many of the three-stars—he's never been a contestant on Iron Chef or a judge on Chopped or a challenger on any of the food-as-combat reality shows. When Monis is in the restaurant, as he is every day it's open, Tuesday through Saturday, he's working, frequently on the line.
That Monis isn't flitting among his tables, promoting his food and by extension himself, is partly what makes him so compelling. He has become Washington's most revered and elusive master chef, the anti-celebrity in a restaurant scene that at times seems to value personality and buzz more than skill.
I first approached Monis about a profile in August of last year, as he was preparing to shutter the restaurant during his annual two-week vacation. Closing a dining room that long, even in the summer doldrums, is practically unheard of, and Monis's peers debate whether it's an act of stupidity or hubris.
"We tend to be press-shy, but I'm willing to consider your request," Monis said in an e-mail, which one of his employees told me was his preferred method of communication with outsiders. "May I sleep on it?"
He slept on it for ten months.
Monis doesn't yearn to talk. Nor does he need to. A table at Komi—the restaurant can accommodate only 40 patrons at a time—is one of the hardest to get in Washington. Reservations are taken one month to the day in advance. The privilege will set you back $135, or $205 with wine pairings, before tax and tip.
Komi has no written menu. Dinner begins with a procession of about 15 small, light dishes—mezzethakia—some of which are designed to be eaten within seconds of being brought to the table and in one bite. Servers explain the fragile morsels in hushed tones: "Spoonful of uni on a local pear, drenched in kaffir-lime juice." You half expect them to bow.
The meal moves on to bigger appetizers, sometimes a pasta course—Monis worked with a chicken farmer in Potomac to develop the precise mixture of clover, grass, and insects that results in the richest, densest egg yolks possible for his handmade pastas. Entrées are communal, usually roast suckling pig or goat, occasionally a veal rib chop or a whole fish, and diners are invited to pile the meat on top of warm pitas, which they hold in their hands and slather with Greek-inspired condiments.
Three hours elapse by the time dessert arrives. Sweet finishes have never been Komi's strong suit. Monis keeps the offerings simple, as with vermouth-poached citrus, tiny chocolates and gelées, or comfort food that echoes his upbringing; Greek doughnuts have been a hit with critics.
Among his competition, Monis and his tiny restaurant have inspired equal parts admiration and jealousy. One food critic told me, "If you asked ten chefs, 'What is your dream setup?,' nine of them will say, 'Something like Komi.' " It's a culinary house of worship in which the chef is high priest, the cooks and waiters are his acolytes, and the menu is the liturgy that patrons dutifully follow.
Monis has talked to reporters about food. Why he favors cold-smoked trout roe, for instance: ". . . great texture . . . and it's versatile." Why he's philosophically opposed to putting salt and pepper shakers on the table: "We want people to trust that their food is going to be seasoned when they walk in." If a patron requests more seasoning, it means the cooks misfired. "I want to know what table, what seat number, what dish."
He'll talk about "the nicest knife I've ever put in my hands," the Misono UX10 Gyutou, a Western-style chef's knife made to exacting Japanese standards that retails for upward of $300. He'll admit his favorite junk food: barbecue Fritos. His favorite splurge: white truffles. He'll even name his odd pet peeve: "I very much dislike when people rip into the plastic wrap covering something—when they make a hole and dig in. It takes seconds to just unwrap something properly."
But ask Monis about Monis, or about why he cooks, and he clams up.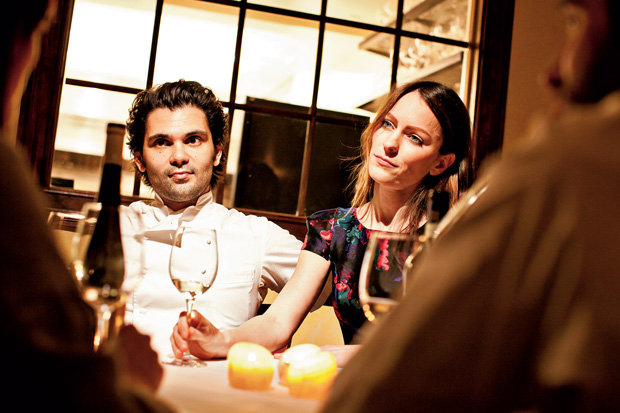 This is not lost on anyone who has worked for him. Current and former employees refer to "the choice" that Monis has made not to seek attention, to eschew the limelight, above all to guard his private life. And they protect that choice with a loyalty that can border on fanaticism.
Kat Bangs, who until recently was Monis's sommelier, told me in an e-mail, "Every day I spent at Komi I was motivated by a genuine admiration for Johnny, Anne [Marler, his wife and co-owner], and their collective vision. I'd like to respect their privacy and not contribute to this piece."
Among restaurateurs, Monis is known for an unusually low turnover rate. People go to work for him and stay for years. When they depart, the code of silence endures. E-mails and phone calls to a dozen former Komi employees met with resistance to talking or with outright silence.
"His employees' commitment to him and the restaurant is special," says Phyllis Richman, former longtime restaurant critic for the Washington Post and one of Monis's early champions. "He somehow puts together the kind of team that feels like Berkeley or San Francisco, a place where food is a broad part of the culture. It's the kind of atmosphere you get in the back of the house with Alice Waters. Not just very good but very human."
These are not words usually deployed to describe high-strung, high-end chefs. Monis can be intense and unyielding, but he's not a screamer. He doesn't throw pots and pans. And he doesn't motivate through fear. Jeremiah del Sol, a line cook at Komi from 2007 to 2008, recalls that Monis once asked him why the skin on a goat shoulder wasn't properly crisp.
"I don't know," del Sol replied, bracing for an angry rebuke.
Monis just said, "Get it right."
"Other chefs would kick you off the line and make you watch them do it, to make an example of you," del Sol says. "Sometimes I wanted him to just show me—that's what I'm used to." But Monis was like a parent dishing out tough love. He wanted his cook to learn for himself how to fix his mistake.
One night at dinner at Little Serow, the new northern Thai restaurant Monis opened next door to his flagship, I asked my server, "What's it like working for Johnny?" Her eyes widened and her face lit up with the kind of devotional exuberance found in the audiences at megachurches and Phish concerts. "We're all just part of the Komi family!" she said.
I asked Derek Brown, co-owner of the Passenger and Columbia Room bars and a former Komi sommelier, why he thought Monis has been so successful. A week later, Brown declined my request for an interview, but he offered to put his thoughts in writing. (You know you're in Washington when the bartender is issuing a statement.)
Brown wrote that Monis works "for years" perfecting a recipe and every ingredient in it. "If you think the dish you got from Johnny is simple, you're only deluding yourself. If he cuts a radish, he wants to know the best way to cut that radish and studies Japanese techniques. If he fries a crispy pork rind, he's tried 400 iterations of that pork rind until it glimmers, shines, and has the perfect crunch."
Many chefs, Brown said, overlook the core principles of hard work and devotion to craft that undergird the Monis doctrine. "Instead they start with design and PR. Johnny simply proves that's all bullshit. Here's a kid (well, not anymore, but when he started he was) who just gets it. Chefs used to belittle him and pat him on the head. Now they worship him."
Nothing in Monis's early life portended a future as one of America's elite chefs. In the late 1990s, Monis, who was born in Arlington, dropped out of the pre-med program at James Madison University, where he spent Sunday nights cooking for big gatherings of friends and realized he was more interested in carving knives than in scalpels. He enrolled at Johnson & Wales University, a cooking school in Charleston, South Carolina, but dropped his studies again because he was learning more by working in the acclaimed local restaurant McCrady's.
In 2001, Monis walked into the upper Northwest DC location of Chef Geoff's, the popular local chain owned by Geoff Tracy. Monis had seen a classified ad for an entry-level cook.
"He was barely old enough to drink," recalls Tracy, who put Monis to work making salads, one of the lowest-rung jobs in the kitchen.
Monis began experimenting with some of the more pedestrian items on the menu, elevating them beyond their humble ingredients. Tracy was impressed and promoted him up the line to more senior cooking positions.
"He came up with all sorts of great things," Tracy says. He recalls a pistachio-crusted salmon that Tracy thought was so good he hung a Washington Post review with a picture of it in the restaurant's foyer. Other of Monis's dishes baffled his boss. Monis pressed smoked tea leaves into grilled pork tenderloin and served it with "these little funky berries" that Tracy can't remember the name of but loved eating.
"Johnny's greatest challenge was finding food in my genre," Tracy says. "Food that people like to eat and that's accessible."
Tracy made Monis executive chef at his downtown DC restaurant, where Monis continued to jazz up the dishes. His former coworkers remember him as a dependable leader who inspired his cooks to make better food. Monis also found love in the restaurant. He met his future wife, Anne Marler, who was a server there. She had graduated from National Cathedral School and Georgetown University and then worked for a time as a journalist in Washington.
Tracy was proud of Monis, but he knew the younger chef was antsy. "He was always searching for the next thing," Tracy says. "I could see he wanted to do something else. He had an itch."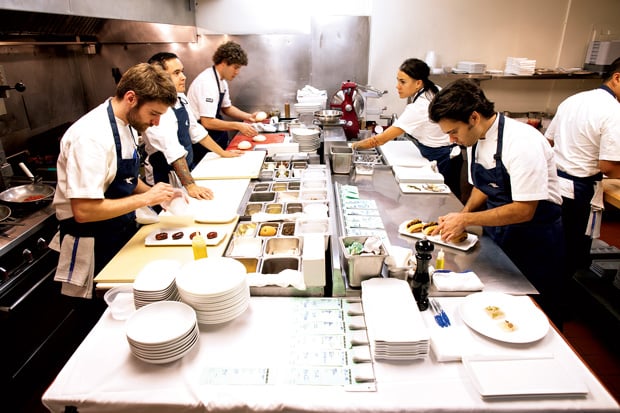 In 2003, Monis gave his notice. He and Marler were going to hang out their own shingle with a small restaurant space previously occupied by Roberto Donna and his failed trattoria Vivo!, on the first floor of a cream-colored brick rowhouse near 17th and P streets, Northwest. Tracy counseled him on running a business—and asked him not to steal any of his staff. A few weeks later, Tracy says, two more employees, including an executive sous chef, quit and followed Monis. When I spoke to Tracy, he played down the toll Monis's departure took on his restaurant. Privately, though, someone close to Tracy told me he was crestfallen and felt he was losing a rare asset.
The setting Monis chose for his next act was inauspicious for an ambitious new eatery. Save for the highly regarded Sushi Taro next door and a serviceable steakhouse down the block, the stretch of 17th Street where Monis planted his flag was a culinary desert, dominated by cheap diners, dive bars, and an understocked grocery store that neighbors dubbed "the Soviet Safeway."
Komi was, and still is, a small, spartan space. "It has all the personality of a Presbyterian meeting room. A dimly lit one," Tim Carman wrote in the Washington City Paper. But it had two dozen more seats when it opened than it does now and no entrée cost more than $19. A full dinner with wine, tax, and tip came to about $60 a person.
Unlike today, diners could choose dishes from a printed menu. Salads composed of peekytoe crab, pink grapefruit, and diced avocado as well as squash soup with a handmade marshmallow floating in the center were early standouts. So was fish, notably walleye and Arctic char with skin so crisp the Washington Post's Tom Sietsema compared it to a potato chip.
The menu was adventurous but approachable. Monis served Greek-inspired sandwiches stuffed with shaved lamb, arugula, and cucumber. Roberto Donna, the previous tenant, had installed a wood-burning oven, so Monis served pizzas, but topped with ingredients like squash or bluefin tuna. One summer, when the scorching oven raised the temperature in an upstairs apartment, forcing the tenant to run his air conditioner ceaselessly, Monis paid the man's electric bill.
Monis's food adhered closely to his roots. He was born Ioanis Monis, the son of Greek immigrants who own a beloved sandwich and pizza shop called La Casa in a strip mall off Duke Street in Alexandria. Monis recalls standing on a milk crate in the kitchen so he could reach the sink while washing dishes. This is one of the few biographical details he has divulged, and it has circulated widely among food writers, as has the story about a seven-year-old Johnny asking his grandmother if she wanted breakfast and then going to the stove to cook eggs in olive oil.
When he was 17, Monis ran La Casa by himself for two weeks while his parents went for their annual summer vacation to the Greek island of Chios, where they'd been born and where they'd taken Johnny as a child. He remembers his grandmother greeting them at her home with a pot of rabbit stew with pearl onions—his favorite childhood dish—and gathering vegetables and eggs with his grandfather.
Chios—or more precisely, a taverna-lined beach on Chios called Komi—is Monis's inspiration. His restaurant is meant to emulate the combination of impeccably fresh food served in a relaxed atmosphere. In that regard, Komi on 17th Street felt immediately out of step with workaday Washington—lunch service, for instance, took more than an hour. But Monis seemed happy. And the critics noticed.
"In a very short time Monis and company have raised dining standards on their block by more than a few notches," the Post's Sietsema wrote. "Komi is a serious restaurant that displays a playful side."
Not long after he opened Komi, Monis told reviewers, "I'd like to be known for a comfortable little restaurant," the kind of place "we'd like people to be able to come once or twice a week rather than once or twice a month."
But what he did next deviated entirely from that ambition.
In the winter of 2006, Monis closed Komi. He cut the number of tables by more than half and remodeled the space with some volunteer labor from his parents, who helped cart out the old wood-fired oven. When the restaurant reopened two weeks later, it was transformed. Monis eliminated the à la carte menu and offered only a prix fixe meal. And he raised the cost of dinner to $84 a person.
"In roulette terms, this was akin to pushing the entire pile of chips onto a single number," wrote The
Washingtonian's Todd Kliman. "A restaurant that only three years earlier had offered wood-oven pizzas was now demanding consideration as a culinary destination and inviting comparison to such big-time restaurants as Citronelle and CityZen."
A new era was ascendant in fine dining, that of the expensive, chef's-choice tasting menu, which turned attention away from the patron and toward the chef, who was seen more and more as an artist. Restaurants became like galleries, and eventually like theaters. People came not just for the food but for the show.
Komi is now open just five days a week for dinner only. Monis offers employees health insurance and vacation, a rare act of generosity in a restaurant. Once, during a summer break, he paid part of the wages of a line cook who was on vacation but was stretched too thin to go without pay. And the independently owned restaurant has granted Monis the lifestyle of someone who can actually afford to eat there. In April, he and his wife closed on a $1.3-million rowhouse on a tree-lined stretch of Q Street, three blocks from the restaurant.
As his acclaim grew, Monis won awards and granted some interviews. But he insisted he wasn't paying attention to the buzz. "It's never been about that," he said in a brief 2005 interview. "It's always been about creating a place with soul . . . the restaurant that I would want to eat in."
One morning in 2008, not long before Christmas, Monis called with an urgent message for his staff. "He said to have everyone in the dining room in 20 minutes and that he was on his way in," Jeremiah del Sol, his former line cook, recalls. "We didn't know what the hell was going on."
Monis stood before his confused staff holding up a copy of The Washingtonian's 100 Very Best Restaurants issue, which had just been published. "We're number three!" he exclaimed.
The room erupted in cheers. A year earlier, the magazine had ranked Komi number ten. Monis had leaped ahead of some of the region's most revered establishments, including the Inn at Little Washington and José Andrés's Minibar, a six-seat restaurant that served a 27-course tasting menu.
After the cooks and servers caught their breath, the sous chef said to Monis, "Next time can you just tell us what happened? Because we thought you were closing the restaurant."
A year later, Komi was ranked number one, displacing Michel Richard's Citronelle. Komi has remained in the top slot ever since.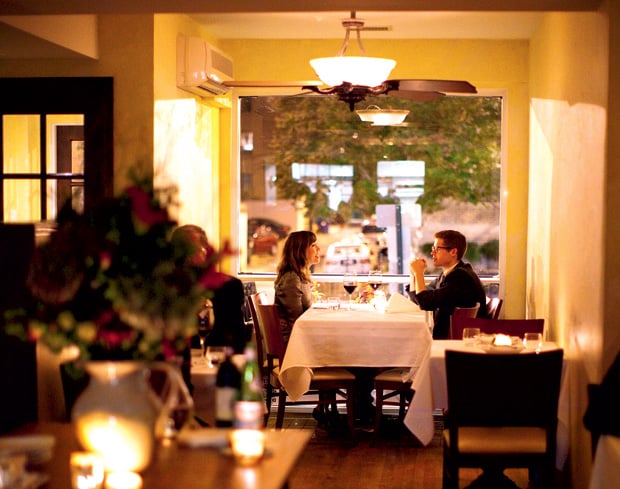 "Thanks so much for the persistence," Monis wrote in an e-mail. Three months had passed since our first exchange, when he'd asked why I wanted to write about him. "I'm open to participating in the story," he said, "but I'd like to be able to give you my full attention—which is just not possible right now."
He explained that he'd opened Little Serow a few weeks earlier and needed "just a few more weeks for things to settle down around here."
Things never did settle down at the new restaurant, which has had two-hour-plus waits since opening late last year. As with the entrées at Komi, dinner at Little Serow is a shared and hands-on experience. Diners are encouraged to pick up the acidic, peppery Thai food—which bears little resemblance to the sweeter curries and noodles most Americans are used to eating—using broad leaves and herbs pinched between their fingers instead of forks and spoons.
Monis has said he learned to appreciate this northern Thai food while vacationing with his wife in the country's Isaan region, which shares a border with Laos and Cambodia. He also tried his hand at cooking it over the past few years during family-style dinners for his staff. Privately, several chefs commented that opening a restaurant devoted to an obscure cuisine, having been exposed to it only as a tourist, took equal parts guts and arrogance.
On a recent visit, Dolly Parton and Appalachian bluegrass spilled from the speakers—a nod, Anne Marler told the Washington Post, to Isaan's rich tradition of "scrappy, proud resourcefulness." There's a down-home-hipster vibe that seems in tune with a chef who has cited M. Ward and Bright Eyes, both mavens of indie folk, as two of his favorite bands. And the menu is unmistakably Monis—a seven-course meal, $45 a person, no choices, no substitutions. The atmosphere is relaxed. The service feels spontaneous. But the entire experience, from the eggplant-and-pork appetizer to the dessert of radish cake, egg, and fermented cabbage, is precisely choreographed.
For years, critics wondered why Monis hadn't capitalized on his rock-star status and opened a second restaurant or a chain of them. Why wasn't he launching offshoots in Las Vegas or even Atlantic City? But Monis won't open his own doors if he can't be in the kitchen.
Once when he fell ill, he shut Komi for the night. No chef does this. When he leaves town for vacation, the restaurant is out of commission. When Monis opened Little Serow, he stressed to the local food blog Metrocurean that he wasn't taking his eye off Komi. "I've figured out how to be in two places at once," he said. Monis was only exaggerating slightly. A staircase connects Komi to Little Serow, which is on the ground floor of the rowhouse next door so Monis can easily hop between his two kitchens.
And when he's in the kitchen, he's in command. "Johnny will not hand over the plate to me until he's looked at it from every direction and made sure it's perfect," says Scott Suchman, a photographer who has taken many images of Monis and his food, including for The Washingtonian. "It's like going inside a cuckoo clock, watching him assemble dishes with tweezers and forceps."
"He is obsessed with texture," says former Komi line cook Jeremiah del Sol, who's now working in Seattle. "Johnny was the first chef I saw who actually touched food—and smelled it, looked at it. He could tell if it was perfect without tasting." Del Sol says that if a piece of meat wasn't cooked perfectly, Monis would throw it out and make his cook start over: "I became obsessed because he made it my job to be."
Three observers of the local restaurant scene told me that Monis irons his tablecloths using bottled water because DC tap water contains impurities that dull the white linens. No one I spoke to could confirm that rumor, but it continues to spread because it seems so believable. Another persistent story, conveyed with some bitterness by Monis's competitors, is that his parents own the rowhouse where Komi is located, but that's not true.
Monis's pursuit of perfection has earned him the adulation of critics and patrons. But rival chefs say the very qualities that make him so good also make him predictable. And safe.
His peers generally divide into two camps. On one side are chefs such as Geoff Tracy, who aren't competing with Monis and tend to praise him.
"I'm not a chef like Eric Ziebold of CityZen or Frank Ruta at Palena or Johnny Monis," says Michael Landrum, proprietor of Ray's the Steaks and its seven spinoffs. "They are dedicated to the craft in a way that few if any are."
In the second camp is Monis's competition at the top of Washington's restaurant heap—some of whom he has dethroned as the reigning superchefs of Washington. And while most respect his talents, they can also come across as envious. Almost none will talk about him on the record.
One of Washington's most celebrated chefs pretended never to have heard of Monis: "Komi? Which one is this?" I later learned from two of the chef's friends that he had eaten at Komi with them and grudgingly admitted that he'd enjoyed the food.
Monis's aloofness puzzles other chefs, too. Monis doesn't go to charity galas. He doesn't hang out with other chefs in his off-hours. Those who know him say that many of his closest friends work at his restaurants. This separateness has fed the image of Monis as a hermit savant, the self-described "press-shy" artist dutifully working in his tiny kitchens, oblivious to the four-star rankings.
But is that humility genuine?
"I can understand why somebody would do a very modest kind of cooking that might be consistent with his personality, but there is nothing shy about Johnny's concept or his aspirations," says Mark Furstenberg, former owner of Marvelous Market and the BreadLine and a two-time Beard Award finalist for best Mid-Atlantic chef. Furstenberg points to the long parade of intricate mezzethakia that precedes even the first true course at Komi. "That's not what somebody does when they're publicity-averse."
When Monis first asked, "What is it that makes you want to profile me?" I replied, "I want to know why you cook." Noting that I wasn't a food writer and had been to Komi twice, I declared, "I've never had a meal where the soul of the chef was so prominently displayed." I said I wanted to know, "Who made this?" I wanted to know why someone of his talent hadn't opened another restaurant or been on a reality show. Why, as it appeared, had he consciously avoided that kind of attention?
In retrospect, this was a horribly ill-advised strategy.
In June, ten months after my first communication with Monis and seven months after he said he was "open to participating in the story," I had heard nothing. So I wrote to his wife, Anne Marler. She has always been the de facto media representative for Komi and her husband. Marler helps run a journalism foundation, the John Alexander Project, that, according to its mission statement, is dedicated "to finding untold stories."
Two days after I contacted Marler, she wrote back:
"I'm afraid we would not like to participate in the feature—for reasons that you might expect, given your own explanation of why you're interested in a profile. Our restaurant family is incredibly personal to us, and we are very private. Johnny is not especially keen on talking about himself; we prefer to have our restaurant experiences speak for themselves."
Shane Harris (sharris@washingtonian.com) is a senior writer.
This article appears in the September 2012 issue of The Washingtonian.
EDITOR'S NOTE: This article has been updated to remove quotations from R.J. Cooper, founder of Rogue 24, that were incorrectly included.