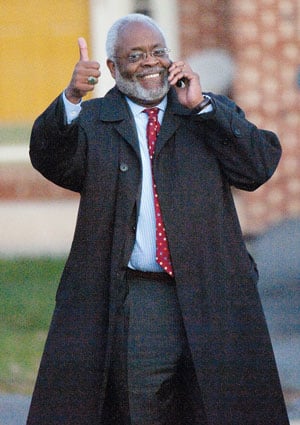 As federal prosecutors pick off DC Council members and Mayor Vincent Gray's campaign aides, the casework is piling up for defense lawyer Fred Cooke Jr., who, by the latest tally, has represented four of the figures embroiled in the corruption scandals plaguing the DC government.
When the feds began investigating then-Ward 5 Council member Harry Thomas Jr. last year for stealing more than $350,000 of taxpayer money, Thomas called on Cooke, as did then-DC Council chair Kwame Brown when he was nailed for felony bank fraud and violating local campaign-finance laws. As the investigation into Gray's 2010 campaign intensifies, more clients are lining up. Cooke represents Thomas Gore, an assistant treasurer for Gray's campaign, who pleaded guilty in May to campaign-finance violations. Cooke also represents Jeanne Clarke Harris, a public-relations consultant on the campaign who pleaded guilty to conspiring to evade political-contribution limits.
It's not surprising that officials go to Cooke when in legal trouble. He's had decades of practice defending arguably DC's toughest client: Marion Barry. Cooke was the city's corporation counsel when Barry was mayor, then became Barry's personal lawyer. He's modest when asked how he became the go-to attorney for embattled city officials : "People hire me or not. It's not rocket science."
Maybe not. But defending Barry through seemingly endless legal and PR disasters is surely some kind of science.
This article appears in the September 2012 issue of The Washingtonian.