1. Letters are delivered to the White House post office in the Eisenhower Executive Office Building. They're put through security tests, then packed in boxes and run through a metal detector.
2. Boxes are taken each morning to the Office of Presidential Correspondence, where 50 staffers, 25 interns, and a team of volunteers read the roughly 5,000 letters that make it through the first round of screening every day.
3. For a letter to reach the President's desk, it must be representative of a current trend in all of the mail received, address a topic in the news, or tell a compelling story. If a staffer deems a message worthy, he or she writes "sample" at the top.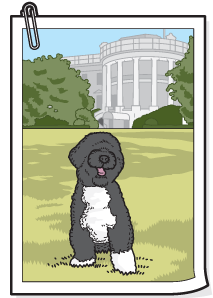 4. Every letter gets a response, typically a form letter with the President or First Lady's signature. Replies to children include a picture of the Obamas' dog, Bo.
5. In early afternoon, several hundred sample letters are delivered to Elizabeth Olson, director of the Office of Presidential Correspondence. She chooses ten and puts them in a purple folder labeled "For the President correspondence." Olson hand-delivers the folder to the Office of the Staff Secretary.
6. Around 8 pm, an aide hands the folder—now in a binder with other important papers—to Obama's personal secretary, who gives the binder to the President.
7. Obama reportedly reads all ten letters every evening but personally answers only five to 15 a week.
8. Each of Obama's responses is copied and distributed around the executive branch. Duplicates are sent to the President's speechwriting team and retained as mementos of the administration.
This article appears in the September 2012 issue of The Washingtonian.