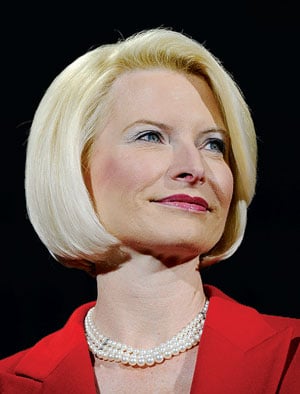 We may be loath to admit it, but could it be that we've been
transfixed by Callista Gingrich's do because it's the embodiment of power
hair in its most extreme, unabashed state—the immaculate, blunt bob that's
a staple in government offices and downtown DC law firms, in a shade of
blond that requires its own bank account to maintain?
Like Washington, Gingrich's hair isn't about youth and
spontaneity but about being a force to be reckoned with. Each strand is
meticulously tended to.
"A hairstyle gives clues about how classic and conservative,
stiff, flamboyant, or laid-back one may be," says Toka Salon & Day
Spa's Nuri Yurt, who styled Laura Bush's hair while she was First Lady and
who counts many Washington heavyweights as clients. "Here it's about
politics and corporate life, looking professional—and a bob makes that
possible even when you're pressed for time, which everyone is. Going blond
makes this classic style more feminine and attention-getting
."
That may be how we ended up with so many blondaholics, as
George Ozturk of George at the Four Seasons Salon calls the legions of
Washington's faux fair-haired ladies—though he's starting to see a subtle
decline.
"It's such a high-maintenance, fancy look," he says. "When I
started out, every client was someone's wife, but now she's not the
senator's wife; she is the senator. And she wants to look like a more
elegant version of herself." Much like the salon's client Nancy
Pelosi.
It's significantly less complicated for men—as in a neatly
trimmed, no-frills, conservative haircut that simply requires regular
trips to the barber.
"This is a city with a lot of suits and ties," says stylist
Jimmy Cehreli, co-owner of Georgetown's Violet Hair and Skin Care."Hair in
this town is the result of people conforming to their jobs. This isn't New
York, but DC is starting to emerge as a trendier city, so we're seeing the
conservative styles with an edgier look, such as asymmetrical
bobs."