Julie Houk, 47
Director of marketing, United Charitable Programs
Why she wanted a makeover: Houk recently lost 20 pounds and, as
part of her new look, wanted to tame her frizzy hair.
We sent her to: Moses Somekhian at Robert Lewis Salon (White
Flint Mall, North Bethesda; 301-468-2979).
After a consultation, including questions about Houk's
lifestyle and an assessment of her face shape and eye color, Moses
Somekhian started by dyeing her hair three shades of blond to add more
depth than Houk's home dye jobs had been providing. He added
strawberry-blond highlights around her face to complement her blue eyes
and fair skin. Next, he cut Houk's hair into a chin-length bob that suits
her heart-shaped face and is low-maintenance enough for her active life:
Besides having a full-time job, she does website maintenance and dog
training on the side. Long layers and a side part make the hairstyle look
fuller.
Makeup artist April Manuel finished the makeover.
The verdict: Houk's coworkers and family have told her the new
hairstyle makes her look taller and thinner. "If I had known I would have
gotten this reaction," says Houk, "I would have cut my hair years
ago."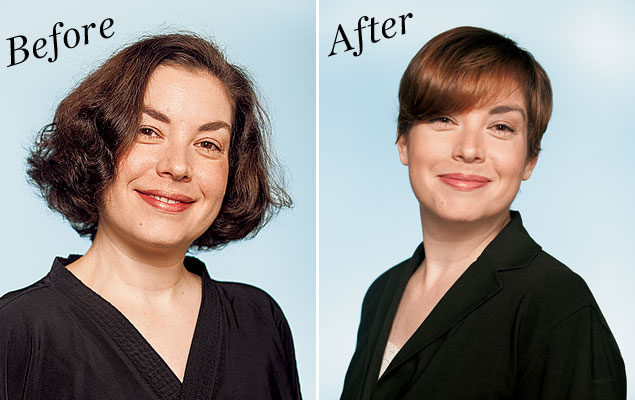 Andrea Adleman, 42
Public-relations consultant
Why she wanted a makeover: After several years of
self-employment, a new job opportunity in the federal government was on
the horizon and Adleman wanted a more professional look.
We sent her to: Cole Stevens Salon & Day Spa (1210
Pennsylvania Ave., SE, 202-547-4444; 7751 Belle Point Dr., Greenbelt,
301-345-0033).
Colorist Michelle Sadler first gave Adleman an all-over
dark-brown color wash to make her hair shinier and to hide gray. Sadler
punctuated the base color with golden highlights at the tips to add
dimension.
Stylist Diane Cole Stevens then set to work. Her cutting
technique for curly hair—which involves trimming while the hair is wet and
again when dry—turned Adleman's chin-length bob into a pixie cut,
revealing the angles of her face while leaving enough length on top to
style both playful and professional looks easily.
Makeup artist Marthinus Pretorius finished the new look with
bold lips and groomed brows.
The verdict: Says Adleman: "I went my whole life waiting for a
style like this."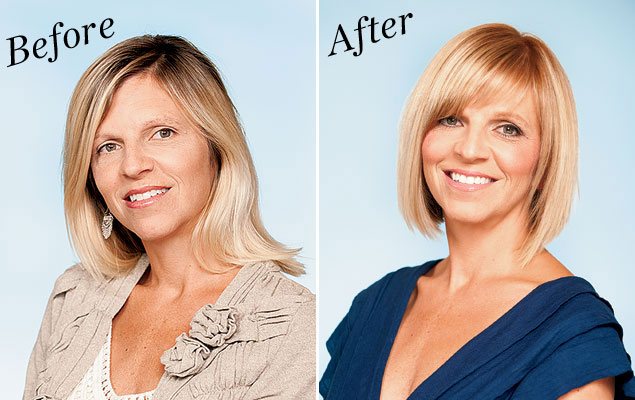 Jeanee Layman, 43
Founder and executive director, theLoyalLocal.com
Why she wanted a makeover: Preparing to send her younger son to
first grade and to launch her own nonprofit this fall had Layman itching
for a look that was more sophisticated than the washed-out bleached-blond
color she applied herself. "I know that my hippie hair isn't going to cut
it in business meetings," she said.
We sent her to: Ismail Tekin at George at the Four Seasons
Salon (2828 Pennsylvania Ave., NW; 202-342-1942).
Stylist Ismail Tekin turned Layman's shapeless
shoulder-length do into an Ellen Barkin-esque angled bob with thick
side-swept bangs—a more elegant but still manageable shape, given her
straight hair. He softened her harsh hair color into a multidimensional
blond by applying a lighter balayage and a few highlights over a warm
caramel. The caramel color is one shade darker at the base of Layman's
neck—giving the illusion of volume when she shakes out the smooth
layers.
The salon's Carl Ray did her makeup.
The verdict: "I haven't felt this elegant in years," says
Layman, whose sons, Max and Jake, ages six and eight, told her she looked
"weird but beautiful" when she got home.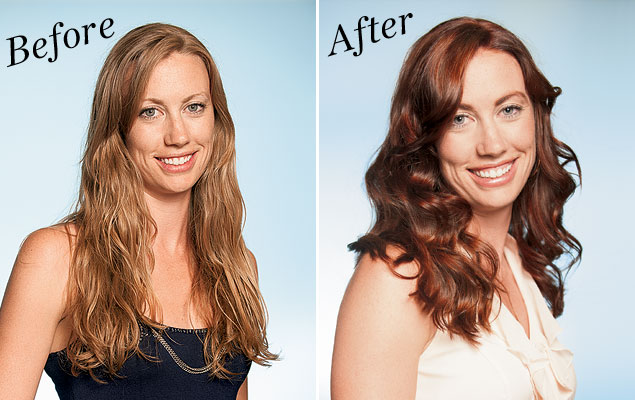 Johanna Kracke, 28
Nutrition researcher and yoga instructor
Why she wanted a makeover: "My hair had been the same for seven
years, and it just felt blah," says Kracke. "I ended up pulling it into a
ponytail 90 percent of the time."
We sent her to: Lisa Rittiner, co-owner of Arlington's Smitten
Boutique Salon (3000 Washington Blvd.; 571-527-0200).
Rittiner brought life back to Kracke's naturally wavy texture
by trimming five inches from the bottom and taking a razor to both the
interior of her hair and the edges around her face. The most drastic
change was the color: The new coppery-red complements the pink undertones
of Kracke's skin and brings out her light-green eyes. Rather than apply
highlights, Rittiner used a deeper hue on the base and left the ends
light—and brightened the tips with a glaze—to make the ombré appear more
natural.
The verdict: "It's been really fun," Kracke says of life as a
ginger. "I've been told I look like Jessica on True Blood."
See another amazing makeover here.