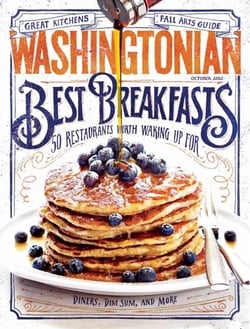 Someone had to eat all those pancakes. To create the October issue's "Best Breakfasts" cover feature, the Washingtonian food staff spent our Saturdays and Sundays of late on a steady diet of omelets, blueberry pancakes, and Bloody Marys. Here are ten lessons we learned about how to get the most out of the weekend midday meal.
1) Make a reservation. If you forget, consider the neighborhood. On DC's
14th Street, Northwest, for instance, avoid the hungover throngs by
sneaking in on the early side. In a family-oriented area, you'll have
better luck arriving after the stroller set has rolled out.
2) If
you're going for dim sum or an all-you-can-eat buffet fest, get there
early. Time on dim sum carts and steam tables does dumplings and
scrambled eggs no favors.
3) Check out the coffee selection. Is
it from a top roaster such as Chicago's Intelligentsia, or is the place
trying to get away with standard-issue drip? Places that take their
beans seriously usually take their food seriously, too.
4) Bottomless mimosas may be tempting, but don't ignore specialty brunch
cocktails, which are often lighter, less sweet, not as likely to be made
with sorority-house-grade sparkling wine—and thus will reduce your
chances of having to reach for the Excedrin.
5) Between the
sugar, booze, salty grease, and carbs, water is a bruncher's best
friend. Keep drinking it. Then drink some more. It'll help keep the rest
of the day from turning into a marathon nap.
6) Dying to get into a hot spot that requires hour-plus waits at dinner? Brunch is often a better, less hectic time.
7) Brunch can also be a cheaper way to sample a high-end dining room's
fare. You'll probably get a better sense of the chef's ingenuity if you
stick to the lunchier side of the menu. Pancakes aren't typically what
sets a culinary genius's mind ablaze.
8) Dining out solo has many
quiet (or eavesdropping-friendly) pleasures, but if you're skittish
about it, grab a newspaper and give it a try at breakfast, when you'll
probably feel less conspicuous.
9) Cooking requests aren't just for steak. Don't be afraid to ask for your bacon extra-crisp or your omelet on the soft side.
10) Avoid over-ordering. At many places we sampled, plates hit the table
quickly, and most breakfast food doesn't make for great carry out.
Psst: Is there a brunch spot you love that did not make our list? Tell us about it in the comments.