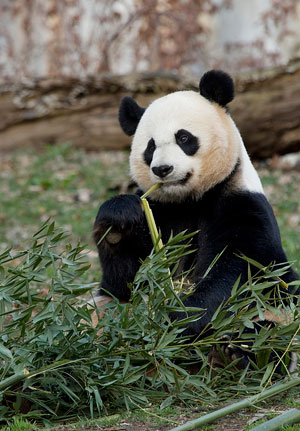 In an open message from the National Zoo today, zoo staffers were described as "still
reeling" from the death yesterday of the giant panda cub only a week after its birth.
"We still don't know definitively what caused us to lose the [cub], but we do have
some more information since yesterday, especially from the necropsy (animal autopsy),"
the message read. The zoo hopes to use the death as a way to learn more about giant
panda reproduction and cub health, and will share the findings with the Chinese.
The main findings of the autopsy are that the baby, which weighed four ounces and
"appeared to be a female," was not inadvertently killed by her mother, Mei Xiang.
"There were no signs of trauma, external or internal, which means that she was not
crushed," the message said. "Her heart and lungs looked good, which tells us that
she did not suffocate." She did successfully nurse. The only abnormalities found by
veterinarians were some fluid in the baby's abdomen and a "slightly abnormal liver."
They are investigating whether the abnormalities played a role in the death. The zoo's
panda team is keeping a close eye on Mei Xiang to monitor her health and to make sure
she returns to normal behavior. "Watchers did notice her cradling an object, as she
did before the birth of the cub. We believe this is an expression of her natural mothering
instinct," the message said.
Mei Xiang had a successful pregnancy in 2005 with Tai Shan and five subsequent pseudopregnancies
before last week's birth.
See Also:
Death of Baby Panda Cub is "Devastating," National Zoo Officials Say