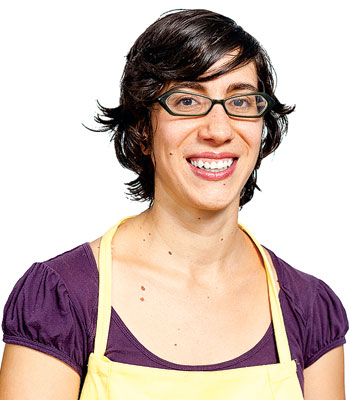 Grace Lichaa
Day job: Manager at the Capital Area Food Bank
and salesperson at New Morning Farm, with farmers' stands at FreshFarm
markets.
Supper club: It's run through Feastly, an
online forum that connects home chefs with diners for pop-up meals.
Lichaa's are typically local and seasonal for groups of 15.
Kitchen: A 12-by-15-foot open kitchen in a
rowhouse in DC's Mount Pleasant.
How she stays organized: "Ziploc bags—they
don't leak, and you can label them."
Her dream kitchen would have: "A Viking gas
range with eight burners, a kimchee refrigerator, and a canning machine,
and it would be big, open, and light-filled. Plus a New England-style
pantry."
Favorite gadget: "A crockpot is amazingly
useful. You can put something in in the morning, leave for work, and by
night you have a full meal. Or you can do a hot soup or drink for a dinner
party and keep it warm."
Dinner-party decorations: "I like to decorate
my table with herbs. I arrange carrot tops into a centerpiece. I also like
to write menus so people can remember the meal."
Space saver: "Ikea has great jars with magnets
on the bottom, which attach to your refrigerator."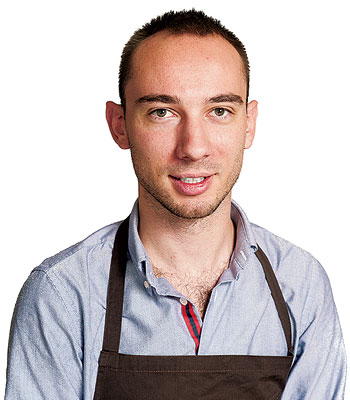 Tom Madrecki
Day job: PR manager for a
nonprofit.
Supper club: Chez Le Commis, where a dozen
guests are served four "modern minimalist" courses such as pork with
tobacco-infused oil.
Kitchen: A six-by-nine-foot space in a
one-bedroom Clarendon condo.
Background: Stints at Noma in Copenhagen and
Le Chateaubriand in Paris.
Favorite tools: "Offset spatulas; Mac knives,
specifically the 10¾-inch chef's and five-inch utility professional
models; and a knife stone. Also a chinois [a fine-mesh sieve] for making
pure, clean sauces and stocks."
Cheap find: "Bialetti makes a small nonstick
sauté pan ($12) that's sold at Target and a lot of grocery stores. Crappy,
way too light, but it's the greatest omelet pan ever."
What he cleans with: A spray bottle of
vinegar. "You can wipe down a plate that gets a little sauce on it or
clean off a stove while it's still hot."
Presentation: Use simple dinnerware. "I have
basic Crate & Barrel Essential Collection white bowls—they go from
cereal in the morning to plated desserts at night—and white plates from
Ikea."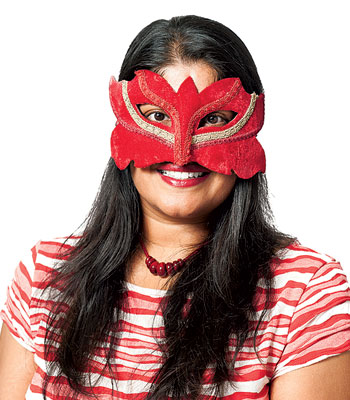 Geeta
Day job: Part-time teacher.
Supper club: Hush, where 12 guests are served
family-style Gujarati Jain foods, a vegetarian tradition from western
India.
Kitchen: An 8-by-12-foot galley kitchen in a
three-bedroom rowhouse near DC's U Street.
Dinner-party tip: "There are always four milk
bottles full of water in my fridge so I have water ready to go for the
table. No rushing around filling water when guests arrive."
Entertaining must-have: "Go to Marshalls or
HomeGoods and buy every type of glass. I have 24 each of Champagne flutes,
martini glasses, lowballs, and highballs, and I keep them in boxes and
just pull them out. They don't get dusty that way."
Spice storage: "I have 80 or 90 canisters from
Ikea that I use to store spices, lentils, and rice. They would be three
times more expensive if I bought them elsewhere."
Time-saver: "Any vegetarian who cooks a lot of
beans and lentils is wasting their time if they don't have a pressure
cooker."
Decorating tip: "A lot of candles. A high vase
with flowers impedes conversation. I like to decorate the room—not the
table—with flowers."
And the mask? Her underground supper club has an air of mystery and secrecy. She often wears a mask at dinner parties.
Explore More Dream Kitchens ››
This article appears in the October 2012 issue of The Washingtonian.