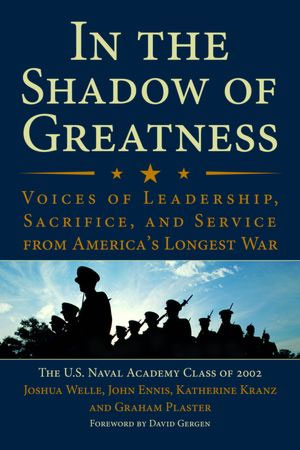 One month ago, a collection of stories from the Naval Academy's class of 2002—the
first group to graduate in to a war since Vietnam—hit shelves. The writers and editors
of the memoir, called
In the Shadow of Greatness, were beginning their senior year in Annapolis on September 11, 2001. Now, ten years
later, 33 of their stories of service and sacrifice fill the collection. We caught
up with Arlington's
John Ennis, who helped spearhead story collection and editing for his classmates, and he told
us about how the book was made, what people can expect, and why it's so important
that all of the proceeds are being donated to veterans' charities.
Tell us about the Naval Academy—what was it like, why you went, did you plan to stay
in the Navy forever? [Note: Ennis now works for IBM.]
One of the main reasons I went there was because I thought it afforded an opportunity
to lead as a very young person. One of the great parts of the Academy as an institution
is that it attracts people from throughout the country. Everyone is an athlete, and
everyone was a top scholastic performer in high school. So on one hand, it brings
varied backgrounds; on the other, we have all of that in common. I think all of us
signed up to go to the academy intent on serving and succeeding in the military, but
I don't think any of us anticipated we'd be graduating in to a time of war.
How do the four years at Annapolis work?
The first year was very focused on teaching us discipline and giving us an appreciation
for the people who wear the uniform. Sophomore year was probably the hardest academically,
but we got more freedom—we were put in charge of our own freshmen. Junior year was
our first opportunity to lead—juniors get groups of 12 plebes during the summer before
their freshmen year. And then senior year. . . .
The beginning of your senior year was 9/11. Talk abut the atmosphere on campus right
afterward. Has that stayed with you?

We had folks who were both directly and indirectly affected. Quite a few of us grew
up in the tri-state area. Many of us had family and friends who worked at the Pentagon
or in the Twin Towers. Many were directly affected in searching for family members
immediately afterward. But also we knew we'd be deploying a lot sooner than any of
us had anticipated. The entire circumstance of the global order was changing, and
we realized we would be called on to directly support that. We knew we would have
to learn a new, faceless enemy, so we really felt like the last few months of our
senior year were important.
Knowing that you'd be graduating into war, what did people think? Were they amped
or terrified—or neither?

We were all of the above, and I think it was hard for us to wrap our heads around
it. It was a scary experience for us, but we were eager. There's only so much military
training you can get to feel like you're fully prepared, but our training was becoming
crystallized. It was also inspiring to see the support. This was a rare time when
everyone, regardless of political or religious beliefs, rallied around the flag and
our mission. I think my most vivid memory from the time was when George W. Bush threw
out the first pitch at Yankee stadium during the World Series. Quite a few of those
people didn't vote for or support him, but everyone stood up and cheered and felt
proud to be an American watching their President.
So you graduated and went off to war. And then at some point, one of your classmates
decided you all might ought to write a book? How did that idea get baked?

The person who had the idea for the book was Josh Welle. He was serving in Afghanistan
in 2008, and a number of our classmates were over there serving with him. He would
run into them and realize he hadn't seen them since graduation, and he thought, "We're
out doing a number of different things, but we should remember that we're still a
team."
So from Josh's idea, there was a series of phone calls—I remember talking to him about
it while he was in Afghanistan. Then we reached out to every single one of our classmates
and asked them to write. We were able to collect nearly 100 inputs, and once we had
them, the core editing team figured out how to group them, and we ended up with 33
in the book.
What are you most proud of about the book?
I'm most proud of the input from mothers of our fallen classmates. There are four
accounts of classmates who have died since graduation written by their moms. They're
still dealing with the loss of their sons, and when we initially asked them to write,
it was difficult because their pain is very raw. What we found, though, was that they
became very, very proud of telling their sons' stories. It served as a coping mechanism
for them to get through the loss and the pain, and the ultimate result is that we've
given them something to be proud of, and they've been able to honor their sons' memories.
What are your hopes for the book?
What we really hope this book will become is a catalyst for a veterans movement around
the country, because we feel like veterans issues are often overlooked. We want to
make sure our veterans, the next generation of leaders, are given every opportunity
when they come back from war. We want to donate as much money as we can to organizations
that help make that possible.
We're putting all of our profits into a 501C-3 trust controlled by the class for now.
We've selected eight charities already, between which we'll split the funds, but we're
hoping to grow that list to about 15. We did a huge push around Patriots' Day, and
we'll be doing another push in sales around centered on Veterans Day, and I'd like
us to be able to give as much money as possible.
How has the reaction been so far?
Reaction has been phenomenal. The chief of naval operations put our book on his 2013
reading list, which means it'll be mandatory reading for everyone in the Navy. We've
done about a half dozen book signings at Barnes & Nobles to date, and we've found
that people who wouldn't ordinarily be interested in books about war are coming out
of the woodwork. People chat with us for five minutes or longer a lot of the time.
They tell us about how proud they were of their uncle Ted, who served in the Battle
of the Bulge in WWII. Or they bring their 12-year-old son who wants to go into the
military and talk to us about that. We've found so many more people interested than
we expected.
The book also came out in a time of great fear—the ten-year anniversary of 9/11 was
marked by all sorts of scary tragedy. David Gergen's foreword in the book talks about
how this generation wants to protect the country, to be the "next great generation,"
and to display courage, character, and leadership in serving. I hope his words coupled
with our stories will remind people that even when they're scared, we're working very
hard to make sure they don't need to be.