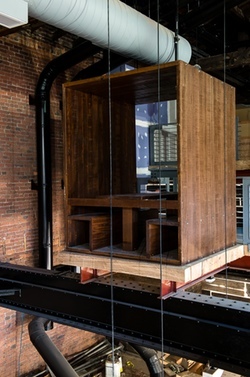 The sign is up on the latest venture from Matchbox Food Group, the same restaurant crew behind Ted's Bulletin, DC-3, and the Matchbox eateries in Chinatown, Capitol Hill, and Rockville. Though construction is still underway, the team is hammering hard (literally—it's still a construction site) for an early November opening. Here's what to look for in the new space.
Historic Ambience
Most restaurants have to work hard at that whole vintage-industrial-chic look (case in point: 45,000 bricks were brought to the Matchbox Rockville to create the exposed-brick wall). With a 105-year-old building, the work is already done. Originally built as a billiards and bowling hall, the space served as an auto showroom in the 1920s and a jazz club called Bali in the '40s. You'll still find the original wood ceilings and hefty black steel garters that once propped up the cars.
Various Seating Options
The 250-seat restaurant is broken up over three levels. The ground floor houses the bar and more casual high-top seating area, as well as booths and an eight-seat "pizza bar" where you can watch cooks firing pies in the wood-fired oven. Those who want a view of all the action can opt for seats in the open second floor section, or head up to the third with a large group or private party. Possibly the best seats in the house: two floating squares that house tables parallel to the third floor. Just ask for "the box."
A Separate Takeout Section
A separate entrance on the T Street side allows guests to skip the whole restaurant experience and pick up an order. Ask nicely and park legally, and they may just run a pizza out to your car.
Wines on Tap—Plus More Beer!
Belly up to the long bar, and you'll find four white and red wines—plus Prosecco—dispensed through spigots. The selection of craft brews is also the largest of any Matchbox location, with 23 options to pair with your pie. Cocktails run the same and change seasonally, so look for lots of barrel-aged concoctions for autumn.
Same Ole Mini Burgers
Just don't call them "sliders." You'll still find all the Matchbox signatures, from the wee patties with shoestring fries to the spicy meatball and bacon-flecked pizza. Chef Jeff Richardson—who is moving over from the Capitol Hill branch—will features specials such as miso-honey salmon and short ribs glazed with coconut curry. And those brunchtime warm cinnamon rolls? They're still available on Saturday and Sunday.
An Outdoor Fire Pit
You'll be able to catch all the neighborhood action from a 60-seat outdoor patio, which stretches along the T Street side. The star feature: an outdoor fire pit facing 14th Street, similar to the one at the Rockville location, around which you can cozy up with 8 to 12 of your closest friends.
Matchbox. 1907 14th St., NW.