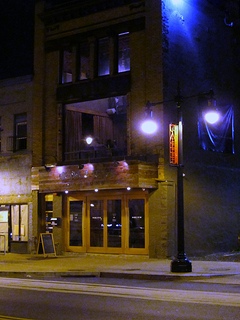 The president's "Dinner with Barack" contest has brought
plenty of attention to the District's new guard neighborhood eateries—including Scion in
Dupont Circle, then brand-new Boundary Road on H Street, and—in August—Adams Morgan bistro Mintwood Place, where POTUS reportedly cleaned his plate.
On Friday, October 12, (a week after his anniversary feast at Bourbon Steak with Michelle), Obama headed to
another restaurant with exposed brick walls: H
Street's Smith Commons, for dinner alongside swing state contest winners Kimberley
Cathey of North Carolina, Ohio native Mario Orosa, and Joe Laliberte of New
Hampshire. The first two winners were accompanied by their
spouses, according to White House pool reports, while Laliberte brought along
his mother. The restaurant was closed to the dining public on Friday, but reopened for
bar service at 10 PM.
As we are wont to do, Best Bites blog asked the restaurant what Obama ate at the meal, but no details were forthcoming. As to how the restaurant was chosen, managing partner Miles Gray confessed that Smith Commons did work for the honor.
"We got lucky, but I'll admit—we were doing everything we could to make the White House aware that our door was always open," read a quote from Gray in press materials sent Sunday evening. Smith Commons also plans to keep the visit on our minds for as long as possible—it has dubbed its current menu, (available through the election), the "Dinner with Barack" menu, and hopes to serve honey ale in homage to the White House brew during a special election night watch party. More details on that as they emerge.
Also worth a read:
President Obama Dines at Mintwood Place
A Guide to Where President Obama Eats in Washington

Obama Eats Another Cheddar Burger at Lincoln