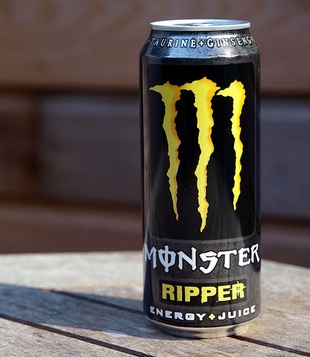 Health experts have long protested the consumption of energy drinks such as Red Bull and Monster, due to their high caffeine content. You can get energy boosts from real foods, they've argued.
Now, the Food and Drug Administration is cracking down on the energy drink company Monster Beverage following recent reports that five people have died over the past three years after drinking it.
One death includes Anais Fournier, a 14-year-old Maryland girl who died in December of cardiac arrest from caffeine toxicity after drinking two large cans of Monster Energy on multiple days. Her mother, Wendy Crossland of Hagerstown, filed a lawsuit against Monster Beverage last week, claiming the company failed to warn consumers about the health risks of its energy drink.
Monster Beverage responded by stating that it was "unaware of any fatality anywhere that has been caused by its drinks."
While the company claims it didn't know of any deaths associated with its drink, energy drink consumption in general has led to more trips to the emergency room, according to US Department of Health & Human Services. The number of trips to the ER associated with the beverages increased tenfold between 2005 and 2009. About 11 percent of those visits occurred among children ages 12 to 17. Fifty-two percent included patients aged 18 to 25 who had combined the drinks with alcohol or other drugs.
Symptoms associated with energy drink consumption include vomiting, abnormal heart rhythms, and dehydration. Generally, 300 milligrams of caffeine per day for adults is considered safe, but the American American Academy of Pediatrics recommends that adolescents get no more than 100 milligrams of caffeine a day. Fournier downed two 24-ounce cans of Monster Energy—that's 480 milligrams of caffeine. She also had a preexisting heart condition.
The FDA is currently investigating the incident reports of five deaths and one heart attack associated with drinking Monster Energy.