If you're running the Marine Corps Marathon this weekend, chances are you'll need a little extra push during the last few miles.
That's why at mile 23 you'll find—and hear—a group of cheering fanatics, offering high-fives, shouts of encouragement, and humorous signs that read, "Run now, tequila later" and, "Go, random stranger, go!"
But who are these people? And why do they care about you making it through the final three miles of the race?
They're the Lululemon Cheer Squad, a group of employees and friends who typically seek out the most brutal or underserved part of a race course. It's likely you've seen them at other major city races, including the New York City Marathon and the Boston Marathon.
The Lululemon Cheer Squad started as a way for the Vancouver-based fitness apparel company to focus on supporting its local communities, explains area community manager Amanda Casgar. In Washington, the local stores banded together and decided to use their marketing funding to support the large running community.
"Our teams in DC looked at the race schedule and talked to organizers in the local running community," she says. "They wanted to understand what they needed to feel supported in the race and help them achieve their goals."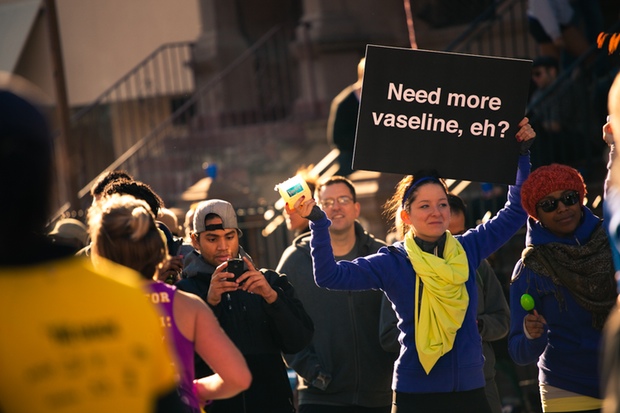 Lululemon ambassador and registered dietitian Heather Calcote says while running last year's Marine Corps Marathon, she found the cheer squad at Hains Point. "I remember everyone saying it was the worst part of the race. But [the cheer squad] had music and tons of signs and a really good group of people out there," Calcote recalls. "It was a much-needed boost of energy to see some life and not be tired and exhausted."
And it's not just an energy boost for the runners. "It's amazing for the runner, but it's the most fun if you're cheering," says Casgar. "It's a really beautiful thing being able to dance with people while they're doing something really hard and accomplishing their goals. It's very inspiring."
If you're not running the marathon this year, you can still join in on the fun. The Lululemon Cheer Squad invites the community to cheer with them at mile 23 this year at the Marine Corps Marathon. For more information, visit your local Lululemon Facebook page.