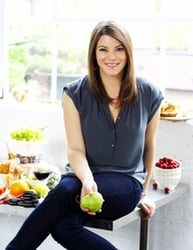 Gail Simmons—special projects director for Food & Wine magazine, Top Chef Judge, and host of spinoff Top Chef Just Desserts (more on that in a minute)—will be in town this weekend for the Metropolitan Cooking & Entertaining Show at the Convention Center. While there, she'll do a cooking demonstration with fellow TC judge Tom Colicchio and host a reception and signing of her book, Talking With My Mouth Full.
We recently chatted with Simmons about the upcoming Seattle show, the future of Just Desserts, and how she feels about scoop-hungry bloggers.
Tell us about what you're doing at Metro Cooking this weekend.
Tom and I do a lot of cooking demonstrations together, so we have a little pattern that we like to follow. What we do is we like to take a few specific ingredients, and he does a very cheffy restaurant version of a savory dish, and I take the same ingredients and do a dessert version that's a totally different dish—more approachable for the home cook. At this demonstration, we're going to use pistachios and basil.
Will you demonstrate a cocktail? There was that very funny clip on Life After Top Chef when you were demo-ing a drink and the shaker lid flew off.
Of course that was the clip they chose! I will be doing a cocktail, as well, using basil but not pistachios.
Do you have any go-to restaurants in Washington? Any new spots you'll be hitting?
There's a lot of restaurants I'm excited about in Washington. I don't think I'll be able to get to them this trip. I'm really excited for Johnny Monis and his new Thai restaurant, Little Serow. I've heard great things about Toki Underground.
Having spent quite a bit of time there, I still have never been to Spike Mendelsohn's pizzeria—it was just being built when I was out there [shooting the Washington season of Top Chef]. I've never been to Volt, so I hope to get there one day. I hear Ris is really excellent. Birch & Barley. Mike Isabella is doing a great job at Graffiato; I'm so proud of him.
You seem to be close with a lot of the former contestants. Is it hard to stay neutral while you're shooting the show?
I don't get attached to them during the season mostly because we have almost no contact with them compared with how it may appear and how much contact they have with each other. We eat a lot of their food, we get to know a little bit about them at judges' table, but that's in front of cameras.
All that stuff that you see when the show is put together—the interviews, the reality that's happening in their house, the cooking—we're not there for any of that. We see it at the exact same time you do as a viewer. Only then do we say, "Oh my God, I can't believe that person did that," or, "I had no idea that person had a child." The show is designed that way purposely, so we are only judging on the food. You as a viewer can't taste the food, so all you have to judge by are the relationships and the personalities, but we are the opposite.
That said, once we're finished shooting the show, we often get to spend much more time with [contestants] at the reunion episode and doing press and promo and events. So I have come to know many of the contestants afterward, and yes, I am quite attached to some of the former contestants. They've become good friends, and I'm really proud of them and their successes.
Ten seasons and two spinoffs later, we've spawned dozens of successful restaurants around the country and given these chefs opportunities otherwise they wouldn't have had. I can say with confidence that Top Chef has made a real contribution to the culinary world, not just people on their couches watching TV but to the way we're all eating—going out to their restaurants and tasting their food.
That's certainly true here in Washington.
The four of them [former TC contestants Spike Mendelsohn, Mike Isabella, Carla Hall, and Bryan Voltaggio] have done incredibly different things with their success from the show, and interestingly all four of them weren't winners. I would argue that often it's the runners up who do the best, and those are four perfect examples, maybe because there's a little less scrutiny. Spike wasn't even a finalist. Mike was a finalist, Carla and Bryan were finalists, but none of them won. One is doing pizza and burgers, one is doing modern rustic Italian, one has a massive daytime talk show and a very successful catering business, and one is doing fine dining at a very high level. They're also four of my favorite contestants. I have a really great personal friendship with all four.
You shot the upcoming Top Chef season in Seattle, and there was a lot of early press. Has it become more difficult to keep the show's secrets?
Every season it gets more intense. Certainly the press and bloggers have taken a much bigger role, mostly because when we first started shooting there was no such thing as bloggers, or they were in their infancy anyway. We need to take a lot more care with our locations, with protection of the chefs.
What I can't understand is—I guess I understand why lots of press are trying to get our secrets so they can break [the story] and expose them, but the truth is we shoot the show so many months out that it doesn't really do any good. Even if they did find out who was on it, I don't know really how that benefits them because ten months later or six months later, who is really remembering? Our goal is to make the best show we can make, so I'm always amazed people want to ruin that for the audience that really watches us to be surprised and to enjoy it.
Is it difficult for you to remain incognito?
It's hard to be totally anonymous because we need to eat our dinner at the end of the day. We're in a strange city for many weeks at a time, so obviously we're going to hang out together: Tom and I are going to have dinner, and Padma [Lakshmi] and I are going to go shopping or out for a run along the waterfront in Seattle, and we can't be invisible. We can't be locked in a hotel room 24 hours a day—although the contestants can.
Ninety-nine percent of the time it's really positive when people approach us, and that's the biggest reward. That's the reason we do it in the first place.
Did you enjoy summer in Seattle?
I loved it. We were there in July so we were there for the most perfect
weather and the peak season for all edible things and the chef community
was so welcoming to us, so happy to have us there. They stuffed us
silly and gave us great tips and insider info on the best places to go
and the best hikes and day trips. It's just a beautiful part of the
world and so completely different from the season before, which we spent
in Texas. From Texas to Seattle is culturally a huge gap, culinarily a
huge gap, and climate-wise we went from desert to temperate rainforest.
It makes for a better show to have those changes.
Any dream cities for future seasons?
If
we're going to play the fantasy game, I'd love to do a season in Paris,
I'd love to do a season in Rome or Tokyo. In the United States, New
England would be a great place to shoot. We spent a finale in New
Orleans, but I feel like we've just touched on the South in general. The
South has so many great pockets of culinary tradition; there's so much
of the Deep South I'd love to go to—places like Memphis and South
Carolina. There's just so much more to eat.
Can you tell us the status of Just Desserts? Can we expect a third season?
If I could look into my crystal ball for you, I would. But I really don't know anything about the future of Just Desserts. I try to take it one season at a time, or else I get overwhelmed. But at the moment I'm waiting to hear, as well.
Anything else we can look forward to?
I can't really talk about the next Top Chef piece because it's new, but there will be more great, exciting shows in the Top Chef brand. Tom and I are hosting a Top Chef cruise in the spring, which is kind of unbelievable and absurd, but we're
really excited about it. It's going to be in April with Celebrity and
it's just an amazing way of bringing the show to life in the
three-dimensional form. I think Spike is coming with us; Richard Blais is coming with us. Jen Carroll; Fabio Viviani. I think Hubert Keller, Tim Love—some really amazing chefs who are our friends. It's going to be a crazy adventure for everyone.
Gail
Simmons will be in Washington on Saturday, November 3. Tickets to her
events can be purchased
online.