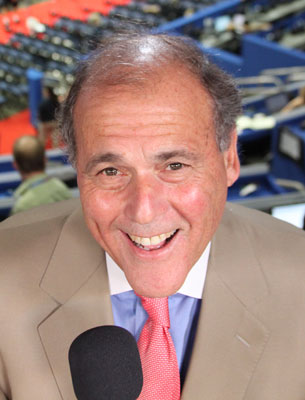 Mark Plotkin has been called an "institution" by the
Washington Post. He earned that distinction because of his passion and knowledge of the political
scene, particularly as it plays out in Maryland, Virginia, and DC. In a city awash
with political pundits, he's one of the few who focuses as much attention on area
contests for the state House, mayor's office, and Congress as he does on the national
race between President
Barack Obama and challenger
Mitt Romney. He's also a loud advocate for DC statehood.
Plotkin has been a fixture in local media since the 1980s, especially on the radio,
first with WAMU and then WTOP. He's now on television, serving as the political analyst
for Fox 5 News. We checked in with him to get a local point of view on Tuesday's national
election.
What will be the major trends of the local area?
Everybody is keying in on Northern Virginia because Obama did so well there four years
ago. He got 60 percent of the vote in Northern Virginia. He won big margins in two
bellwether counties, Prince William and Loudoun. Those are the two counties that will
determine tomorrow how Virginia goes. Will we have a repeat of 2008? Or a repeat of
2009, [which] was a Republican sweep?
What other parts of Northern Virginia will you watch?
Arlington and extended Arlington, where the demographics have changed. It's ethnically
diverse. There's a large Hispanic vote. That helps Democrats.
Will the race for the Senate—between former governor Tim Kaine, a Democrat, and former
senator George Allen, a Republican—mimic the presidential race?

There are no Obama-Allen voters. I dare you to find one. But there are Romney-Kaine
voters. Kaine is likable, approachable, and a much more attractive human being than
[incumbent Democratic senator
Mark] Warner. Warner is a political coward. He really is. Kaine is just as smart, but a lot more
accessible and gutsy. Allen is just damaged goods. He never recovered from the "macaca"
incident.
His political journey is over. Kaine can appeal to Republicans and Indepedents. He
can get votes Allen can't get.
There's no way if Obama wins Virginia that Allen wins, but I could see if Romney wins
Virginia, Kaine could still win.
What do you expect in Maryland?
The story there is [Governor] Martin O'Malley's emerging presidential campaign. He came out for same-sex marriage because he wanted
to be competitive with [New York governor] Andrew Cuomo. He's term-limited, and the concentration in the governor's race in two years will
be between [attorney general] Doug Gansler, [lieutenant governor] Anthony Brown, and [comptroller] Peter Franchot. Also they are all waiting for [incumbent US senator
Barbara] Mikulski to die or to leave office, and she has no intention of doing either.
What about the two ballot referendums that have been given so much attention, especially
in television ad campaigns: Question 6, regarding marriage equality, and Question
7, regarding gambling?

If same-sex marriage wins, it will be the first state where voters, when given the
opportunity to vote on it, passed it. No state, when voters were given the opportunity,
has voted for it. I just can't tell you if it's going to pass. A lot of African-American
preachers are against it. It won't pass in western Maryland, on the Eastern Shore,
or Baltimore or Carroll counties. It will pile up big margins in Montgomery County.
I think it's interesting that
Julian Bond is doing advertisements, calling it not same-sex marriage but marriage equality and
comparing it with the Civil Rights movement, because they are worried African-Americans
will vote against it.
And the gambling issue?
Gambling, in the end, will win. There is some worry about the African-American population,
because they are such a large force. The preachers are against it because it cuts
into their take in the Sunday pews.
How important are the two referendums to O'Malley's future?
I don't think it affects O'Malley since he's not running in Maryland again, unless
he runs for the Senate. He could lose the gambling thing and the same-sex thing, and
it won't affect his presidential ambitions one bit. For Franchot [who opposes Question
7], if voters reject gambling, it's something he could use in running for governor,
because he becomes identified with a success story.
How will the presidential race go in Maryland?
Maryland is such a Democratic state. Obama got 62 percent of the vote four years ago.
It has the largest African-American population outside of the South. In Baltimore
City and Prince George's County there are huge black populations, yellow-dog democrats;
they are going to vote Democratic every single time. The last time a Republican won
Maryland was [George H.W.] Bush in 1988, and nobody can tell me why.
Ben Cardin [the incumbent US senator] is going to win overwhelmingly.
In this election cycle we've been inundated with polls—more than ever before, it seems.
Are the polls more sophisticated, more reliable?

I would like to grow up to be a pollster. It's the best job in the world. If you are
wrong, you can say it was a snapshot in time. Are they more sophisticated? I guess.
But I don't know the methodology of each one. I don't know the penetration of cell
phones. I don't know of their credibility, whether they're based on robo calls or
a person actually asking questions, which makes the difference.
There have been reports on the race factor in this election. How do you analyze that?
Let's go to the numbers. Democrats don't do very well with white males to begin with,
and they haven't for a long time. [Al] Gore got 42 percent of the overall white vote, [John] Kerry got 41 percent. Obama's now getting 39 percent of white voters, and among white males
it is much lower. It might be in the high 20s. White women are more likely to vote
for Obama than white males.
But the reason Obama is doing well are the demographics of this country. Twenty years
ago the white vote was 90 percent; now it is 74 percent. The largest growing component
of the electorate is Hispanic voters, and with them Obama is leading by 50 points
nationally. He wins 97 percent of the black vote, 70 percent of the Hispanic vote,
and 38 percent of the white vote. You cobble that together and it's enough.
What about the impact of the Hispanic vote in our local area?
It's growing, and it definitely helps Democrats. The challenge is to register Hispanics
once they become citizens and make sure they vote. In Virginia there's a growing Hispanic
population.
Nationally, in 20 years, someone will not be a viable candidate for President unless
he or she can speak Spanish. Speaking Spanish will be a tremendous political asset.
Do you expect a large area voter turnout, compared with four years ago?
It's always high for a presidential election, about 70 percent.
You are a pronounced advocate for DC statehood. What about President Obama's record
with DC?

I'm monomaniacal about this. The way Obama has treated DC is unforgivable. He got
93 percent of the [DC] vote. No presidential candidate will ever get that much. But
we will never get more power or representation if we keep suffering from Stockholm
Syndrome. We're in love with our captors. Who is to blame? White liberals and African-Americans.
Is it possible that President Obama could win the election but lose the popular vote?
Yes, because the numbers in the South will be so overwhelmingly for Romney. This would
be the fifth time this happened, Gore/Bush being the most recent. Before that it was in
1888 with
Benjamin Harrison. The electoral college vote will be a lot different from the popular vote.
Is it time for the electoral college to go?
Yeah. It is patently unfair. The guy with the most votes should win the presidency.
In addition to O'Malley and the Maryland governor's race, what should we watch for in
the aftermath of this election?

What happens with [DC mayor] Vince Gray. [US Attorney
Ronald] Machen said he was going to wait until after the election. Everybody is saying it [a decision
on an indictment] will happen before the end of the year. If there's a new President,
there will be a new US attorney, but Machen would be kept for a few months, anyway.
Mark Warner should be watched. He's fed up with being a senator. He wants to come back and run
for Virginia governor.
Terry McAuliffe is waiting to see if that happens. If Warner runs, McAuliffe won't run. And don't
rule out
Joe Biden. He hasn't ruled out running for President. On the Hill, on the Republican side,
watch [Senator
Mitch] McConnell and [House Speaker
John] Boehner. Will they continue to be so partisan? Are politicians actually going to be interested
in getting something done?
Where will you spend election night?
In the studio. I will be analyzing returns for Fox 5.