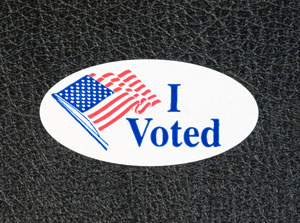 When it comes to politics, this city has no problem with self-expression. Typical
Washingtonians will offer their unsolicited opinion on the intricacies of the electoral
college and the finer points of tax reform before they've so much as learned your
name, and what they lack in manners, they make up for in sheer eggheadedness. But
actually mustering up the courage to speak to the cute brunette in line at the Bloomingdale
polling center? We much prefer to rely on the social safety net also known as Craigslist's
Missed Connections page. There were a fair
few voters seeking out hotties they'd failed to score with on the website this morning;
here are a few highlights. [Ed. note: All ads appear with original spelling, punctuation,
and emoticons.]
Gray Fur Trimmed Coat & Fishnets – m4w (Alexandria)
gorgeous. well dressed. mature.
wearing a gray coat with fur trim.
fishnets, heels
very pretty
shaded glasses
we rode the elevator together.
i asked you if you voted.
i'd vote for you anyday. 🙂
hope you see this — 7th floor? i think.
You're from OK, I'm from CA – m4w – 31 (Adams Morgan Polling Place)
I met you in line for voting at the Adams Morgan polling place. We chatted for a while
about where we're from. You're from Norman, Oklahoma and I'm from Los Angeles, California.
You have a really amazing dimple high on your right cheek. I would have asked for
your number but the polling guy made me stand in a separate line.
Handsome Blue eyed Arlington Forest voter passed on the street – m4m (On the way to
Culpepper voting)
Around 9:30 A.M. This morning . Passed a handsome guy this morning with blue eyes.
Exchanged a brief bit about the time it took for him to vote. As we walked our opposite
directions we both looked back. But, I sure would like to meet up with you again and
have a chance to talk some more. You must live in my same area ~ So, I am taking a
chance in hopes to connect. If this is you , I would like to buy you a drink . Please
respond to this ad. Thanks!
rocking the vote in pink pants – m4w – 29 (capitol hill)
We didn't really chat, so there's probably no connection to miss per se, but I do
appreciate your smiling efforts to get me to the proper location to cast my vote,
even though you were behind me in line. I would be more than happy to buy you a drink
if you want pay back for helping me out.
I hope your experience went well and your guy wins. Unless your guy is a terrible
human being, but I'm going to assume you don't support turrible people. Oh and for
the record, you were the one in pink pants, not me.
Pretty blue eyed voter – m4w – 48 (Ashburn)
You passed me as I was standing at the exit talking to a friend. We caught each other's
eye. I saw you leave in a large SUV. Drop me a line. Tell me something you noticed
about me so I know its you. Lets meet up and talk.
Leesburg Obama Girl- Starbucks – m4w – 40 (Leesburg)
Very pretty petite Obama supporter at Leesburg Starbucks this morning. You changed
your hair during the course of the morning. We had our backs to each other bit exchanged
smiles several times. Would love to get you alone! Very hot. 🙂
Chatting in line before voting – m4w – 47 (Reston, VA)
Enjoyed chatting with you in line today. Looked for you after voting but didn't see you. Stay in touch?
Pretty Voter at Walker-Jones Elementary School – m4w – 29 (Mt. Vernonr Sq.)
We were both in the same ridiculously long line to vote today at Walker-Jones EC on New Jersey Ave. You have brown hair, wore a reddish-orange long sleeve sweater-shirt, black skirt, and gray flats. You were with a friend that looked like Yoko Ono in a white winter coat and some tall gangly blond guy reading a book about Yom Kippur and wearing iphone headphones. It was miserable standing in that gymnasium but the only ray of light for me was occasionally glancing over in your direction. I doubt you'll ever read this, but if you do, i think we should go to Mandu and eat some Korean food and have a few drinks (I'm not Korean, I just love dumplings).
driving the elderly to the polls – m4w – 28 (nova)
You were driving old people from an assisted living center to the polls in a mini-bus this morning. I like how you parked that thing like a boss and still looked lethal for 8am. You told me I'd be seeing you all day but I had to bounce. Shot in the dark, but hit me up if you see this. I'd like to see you some more.