Men Against Breast Cancer hosted its tenth annual Think Pink and Blue Gala on October
25. Redskins First Lady
Tanya Snyder, Capitals commentator
Chick Hernandez, and the Eagle Bank Foundation received awards.
In 1999, Washington native and George Washington University alum
Marc Heyison started Men Against Breast Cancer. The organization was created a few years after
his mother was diagnosed with the disease, when he found that the resources for family
members of women with breast cancer were limited. The goal: to provide an education
and support network for men like Heyison.
To date, it is the only organization of its kind—focused on helping men care for their
sick wives, mothers, daughters, and loved ones. To describe what the organization
teaches, Heyison said: "In a word: family. In two words: being there. In three: What
matters more?"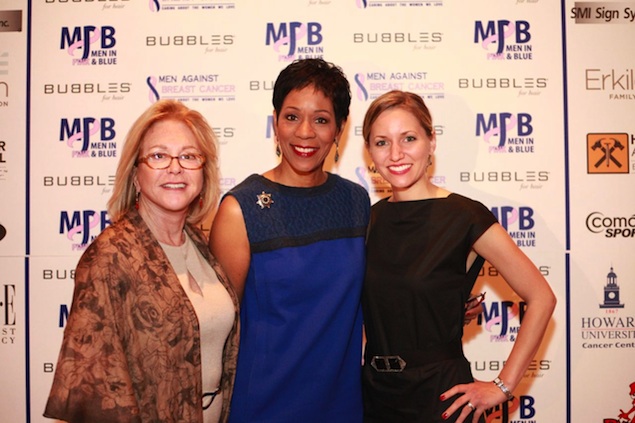 At Heyison's 10th annual gala October 25 at Congressional Country Club, Men Against
Breast Cancer honored three locals for their work in supporting breast cancer awareness.
WUSA9's
Andrea Roane emceed the fundraising event, which was sponsored by Bubbles Salon.
Tanya Snyder—a survivor herself, though she said in remarks that she hates that term—received
the Gloria Heyison Inspiration Award. The wife of Redskins owner
Dan Snyder, Tanya was honored for her work
with the NFL in promoting breast cancer awareness
month.
She helps spearhead the NFL's A Crucial Catch program, the one
responsible for the
pretty pink accessories on football fields across the nation
during October.
Comcast SportsNet anchor Chick Hernandez received the Rosemary Williams Courage Award,
though he spent his time at the podium speaking about his wife, whom he called the
truly courageous one. She was diagnosed in 2009 when their kids were 11, 10, and 8,
and he choked up describing the family's fear at her diagnosis. When he talked about
trying to cram a year's worth of birthdays and family vacations into the weeks before
his wife was set to begin her treatment, he left very few—if any—dry eyes in the room.
The Yetta Rosenberg Humanitarian Award went to the Eagle Bank Foundation for its fundraising.
The Foundation hosts a golf tournament each year that raises money for donation to
local hospitals, and to date, they've contributed well over $1 million.
Following the awards, athletes, media types, "cancer warriors" (as Roane called them),
and others watched a fashion show, mingled, and donated to Heyison's cause.
Of the event and the organization, Bubbles cofounder
Ann Ratner said, "It was an obvious choice to sponsor this organization. There's nothing else
like it. It's not something enough people think about."