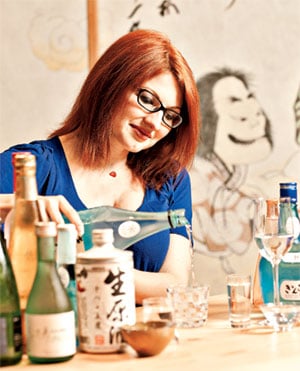 The Japanese have been making sake for thousands of years, but
its intricacies remain mysterious to most Americans. Tiffany Soto, a Las
Vegas transplant who is beverage director at the new Four Seasons Hotel
Baltimore, hopes to change that. She curates a program of more than 100
fermented-rice brews for Pabu, the hotel's Japanese restaurant overseen by
San Francisco chef Michael Mina.
Certified as a master wine sommelier, Soto also carries
credentials from two sake institutes in Japan, making her one of this
country's top sake experts. Maybe it's her fiery red hair or
hyper-articulate conversational style—she's the kind of woman some might
call a "spitfire"—but she says everyone assumes raw aggression propelled
her to the top of a male-dominated world. In fact, she says, "I did it the
Japanese way, with a lot of patience." That meant countless trips to the
East to build relationships with brewers and other experts, plus hours and
hours of study.
These days, Soto is busy spreading the sake gospel to
Washington distributors and retailers to bring more and better bottles
into the market. It's similar to the work she did in Vegas—now one of the
sake-richest cities in the country.
Curious about the world of sake? We enlisted Soto to help us
create this primer.
Sake 101: