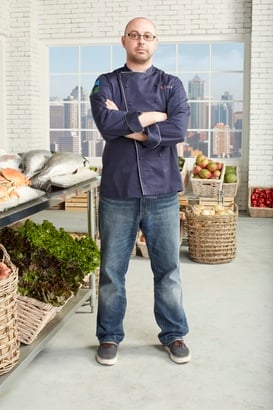 Top Chef: Seattle, the tenth season of the extremely popular Bravo show, debuted last night, and it was a tough one for the hopeful cheftestants. In order to win an official competitor's coat, the potential Bravo stars had to prove themselves by performing fundamental kitchen tasks for the judges: Work the line with Tom Colicchio, prepare a salad for greens-loving Hugh Acheson, make soup that pleased Emeril Lagasse's palate, and whip up a perfect—colorless, soft-in-the-middle—omelet for Wolfgang Puck.
Two of the Washington competitors have moved on to the next round. Onetime Blackbyrd/the Brixton chef Jeffrey Jew earned an early pick from Emeril for his chilled watermelon gazpacho, while Belga Café chef-owner Bart Vandaele received a close pass for his lobster salad. Unfortunately, one of the first chefs to depart was Dan O'Brien of Seasonal Pantry, who was eliminated from the omelet challenge for what Puck ultimately deemed poor plating. We caught up with O'Brien to talk about cooking for Puck, what's next, and how it feels to be among the first to pack your knives and go.
What made you want to go on Top Chef in the first place?
My cooking background. I went from home kitchens to pizza kitchens to slinging in diners to working at Relais & Chateaux properties. You're constantly questioning how much you can take, how much you can handle. And it set parameters for me, knowing my strengths and weaknesses.
You don't get this chance often. It wasn't the ideal time to do it with the opening of A&D, but if I didn't take it, I would have definitely kicked myself in the butt. It wasn't for anyone else but myself.
Overall, was the experience what you thought it would be? What were some of the most surprising aspects of it?
Taping and editing. I didn't watch it. I saw bits and pieces, and obviously I've heard a lot about it. I've had people call me and I read some blurbs. I think people aren't going to know certain things—and obviously that's meant to keep things surprising. I left early, and maybe hindsight is 20/20, but it was a blessing for the business. Knowing how small this place is and how it runs, it would have never taken off. I don't know how we would have paid for it.
Ultimately, from your perspective, what went wrong in the omelet challenge, and what would you do differently?
I'd still cook it in bacon fat, and I still wouldn't wipe the pan out. To me, that's country cookin'. At the end of the road, if it doesn't look pretty, that's fine. But if you can't season, and you're underseasoning or overseasoning, that's skill level. Making sure the food tastes phenomenal? That's what we're going for. Here at Seasonal I cook a lot of rustic, a lot of grandmother-style. We always have duck fat; we always have bacon fat. If I'd had chicken fat, I'd have totally cooked that egg in chicken fat. So I don't think I would have changed much of anything. I owned it. I executed it. Ultimately food is subjective—that's what beautiful about it.
Do you cook omelets at home?
I cooked an omelet every day for the next month. I definitely came back, hung my hat up, and said, "All right, let's do it." I cooked omelets for myself every day for breakfast, and if I wanted a snack, I cooked an omelet. And then I got to the point where I was like, "All right, let's put it on the supper club menu, because I need to feel better." And that's what I did. It made me comes to grips.
I don't think I'm a phenomenal chef. I'm not like, "Oh, I'm the best chef in the city." I think that what we do at Seasonal Pantry is some of the best in terms of dining experience, when you wrap it as a whole and you have food that's pretty high-level, and you have an experience with 12 other diners that's a pretty good experience, and an atmosphere that kicks butt. You put it all together, there are very few restaurants that are doing that. And that's what we go for. I mean, would I love to be achieving better food? All the time. Constantly. Do we have the facility to do that? We're building a team, so once we have the team we'll hopefully come up with the money to build the facility.
Was the omelet you put on the supper club menu the same?
When I was there, I wanted a blender so I could make the oyster into a velouté or a nage and purée them with butter, thyme, and a pinch of sugar. And they didn't have blenders, so it was me changing in the midst of cooking it. Again: adapt, change. Here at Seasonal we did an oyster nage with bacon around it, and then laid the omelet down with oyster mushrooms inside.
You stopped yourself short in the exit interview. If you could have said anything, what would that be?
I think one thing that I learned is that you never want to pre-judge. There are so many great cooks and so many great chefs. You watch people, and obviously Top Chef is about never having a bad day, never having a bad service. You've got to instill in yourself those qualities that make you get up every day and say, "This is the best day of my life to cook." And you have to instill those qualities in the people who work around you. And when you do that, you elevate yourself to a higher road. I like to think that 90 percent of the time I try to take that higher road. There's definitely that 10 percent part of me that wants to tell people to go screw themselves. But at the end of the day it doesn't do you any justice.
We appreciated the shout-out in the episode—you mention Seasonal Pantry got three stars in the Washingtonian.
I think they also set me up for that. They were like, "Go ahead, let's talk about some of your accomplishments."
Yelp got a shout-out, too.
Number one on Yelp for seven, eight months now? It's only 32, 33 reviews. I mean, I'll take it. I used to work with people who would be so upset about their Yelp reviews. Let's put it this way: I know a big person in DC, an owner-operator, who bases a lot of his success off of Yelp reviews. He pounds his chefs when they're not doing well on Yelp. We set ourselves up to try and succeed all the time. That's our bread and butter. We're only serving 12 people. If those 12 people walk out the door and tell 10 people positive things, that's 120 people. If it's negative, that's telling 120 people negative comments. And the city is not that big.
What were you most worried about in terms of the premiere and the reaction?
We sold out in seven minutes last week. At that point, that's the hottest ticket in DC other than Minibar, reservation-wise. I want to see how that plays out: Will Top Chef hurt my career, or will it help my career? People say all press is positive, but it's a catch-22.
Ultimately do you think the outcome of the challenge was fair?
I'm not going to say this person's omelet was this and that person's omelet was that. I'm not the judge. You know, someone had to go home. Fair? I'll let the people decide that. I got phone calls and texts all night: "That sucks . . . it's BS." I'm not going to dwell on it.
If you could give a future competitor a piece of advice, what would it be?
The success of a great restaurant is a well-executed mis en place, which means having everything done that you need to do to execute the dish. Your best bet [on Top Chef] is: Grab three of everything you only need one of. Need a mixing bowl? Grab three. Do you want one sauté pan? Grab three, and then just stash them, because when you want it and run back to get it, it's not going to be there.
The other thing is to study how other competitors have done really well. Look at how they execute their timing and their challenges. And have a good head on your shoulders and a crystal clear idea of where you're going. If you're good enough to maintain one thought, and you can execute it all, you're also probably a better competitor. But you have to adapt to every little thing.
You talked about wanting to go on the show originally for the challenge. What's your next Top Chef-level challenge?
To maintain my status with you guys. To get three and a half stars from Tom Sietsema. It's upholding all those standards we've already held and bring them higher, while being an entrepreneur. That's another thing that's mixed in my blood. I love to cook and enjoy that craftsmanship, but the entrepreneur in me wants to continue to keep growing.
Is there anything we didn't touch on that you'd like to say about the experience?
No, I'm set. I want to be semi-quiet right now. I wrote something for the haters last night. I'm not scared. I don't want to sit there and bicker back and forth. I'm going to tell it like it is: Here are my achievements, and here are my accomplishments. If you want to hate on me, hate on me and try my food. Have a reason. I take it hard, and I take it personally. When you come and dine here, it's a personal experience.