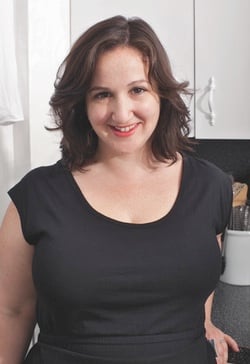 When she started her blog in 2006, Deb Perelman's goal was just to publish the dish instructions she was working hard to perfect—she had no idea her online recipe site would become the 5-million-visits-a-month tour de force that is Smitten Kitchen. Today she's sort of the Barefoot Contessa to urban hosts and hostesses, a self-taught home cook making magic happen in a small New York City kitchen.
Six years, a husband, a son, and a new cookbook later, Perelman is embarking on a 16-city book tour and seems both humbled and excited to meet her readers and the community of commenters who make her site such a distinctive chronicle of foodie-ism.
We caught up with Perelman right before the release of The Smitten Kitchen Cookbook to discuss the new recipes in the book, dining out, and favorite ingredients.
The cookbook is almost all new recipes, right?
I wanted the book to be of value for people who have been reading the blog all these years. I think it's about 85 percent new recipes and 15 percent from the site, and even those look new.
How do you decide a recipe is book-worthy?
I still cook seasonally at home, so I'd say, "Okay, I'm doing three things with pumpkin in the fall." Sometimes I didn't know what recipes I wanted to put where, and I would shoot e-mails around to my editor and my agent, and they would sometimes help me decide. I was also looking for an additional level of originality or longevity for the book. If something was super seasonal, I might have avoided it for the book but put it on the blog instead.
Did writing the book feel different from writing the blog? Were you concerned with maintaining your voice?
The editors weren't interested in scrubbing out my natural voice. They didn't change anything. I was careful to choose editors who weren't interested in changing the way I sounded. But it is hard not to change yourself, because you're less clear on whom you're writing to when you're writing a book. It's almost like exercising in new shoes—something feels a little bit different.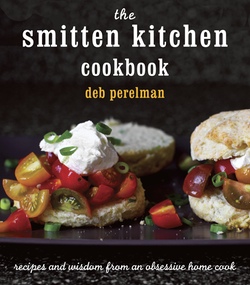 What is your favorite ingredient at the moment? How often would you say that answer changes?
Oh, man, that's like picking a favorite child. I get obsessed with things for a few days or a couple of weeks at a time. Right now it's fall, so it's time to start buying butternut squash, and I'm actually looking to do a couple of new things with pears. I feel like they get a little neglected in the dessert department.
You mention in the book how picky you are, and that dining out often leads to obsessive quests to perfect a dissatisfying meal. Do you ever eat out now that you cook and blog for a living? What are some of your favorite restaurants?
Absolutely. We eat out and order a lot, especially because I'm so busy these days. There are a lot of restaurants I like for very specific things—such as the fried chicken at the Redhead or the huevos rancheros at Cookshop, which inspired my take on them in my cookbook.
If you were on Top Chef and were given the challenge of making a whole meal with only one implement or tool, what would you choose?
I feel like a chef's knife would be too easy of a choice, as it's honestly one of the only things you need in a kitchen. So instead I'll say the food processor. I use mine for everything from rendering a pound of potatoes into perfect hash brown shreds in a single second to making Nutella from just chocolate and roasted hazelnuts. I bet I could find something cool to do with it.
What has been your biggest revelation in terms of staying organized in a small kitchen?
I cannot say enough good things about having a pot rack. We got our first one two apartments ago, and not only does it free up a cabinet, it also frees you from the annoyance of getting something large, heavy, and loud that's stacked between other large, heavy, and loud things out of annoying spaces. I don't think you can go back once you get used to this.
My other, more recent revelation is that clear jars really do make it easier to find things. I switched out all of my bags and boxes and etceteras for jars (clamp-top are my favorite), and it's like turning on a light in the cabinet. Also things with stable bases are less likely to fall on your head when you open the cabinet, which helps.
You dedicate a lengthy portion of the book to sweets. Would you say your prefer baking over cooking? Or do you just have a sweet tooth?
I really like cooking and baking equally, but when I want to bake something, my obsessiveness really comes out. If I'm going to indulge, I want it to be with a perfect specimen of decadence, as it's always a bummer when you waste something as delicious as butter and sugar on something rather average. I think that in baking especially, a good recipe can almost guarantee outcomes, and outcomes count when you really want a perfect deep-dish apple pie.
If you could pick, what would be your last meal?
It would have to be something with artichokes, it would have to be something with good bread, and I would like it to include a glass of very good Champagne. Actually any Champagne—I love it. Does that sound bad? Oh, and I guess I'd have to have some chocolate something: a slice of that chocolate silk pie from the book. That'd be a good way to go out.
Deb Perelman will be giving a talk and signing books at Politics and Prose (5015 Connecticut Ave., NW) at 7 PM on November 12 and signing books at the National Press Club Book Fair and Authors' Night November 13.
See also:
Q&A: "Top Chef" Contestant Dan O'Brien Talks Haters, Yelp, and That Fateful Omelet
A Q&A With "Top Chef" Judge Gail Simmons
A Q&A With the Creators of Cause DC, Opening Wednesday (Pictures)