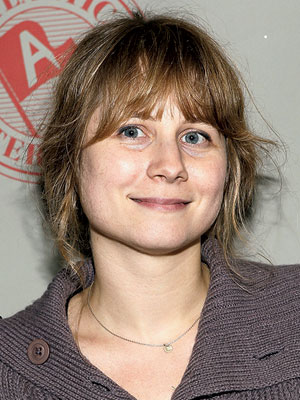 For Massachusetts-bred playwright Annie Baker,
success came from an unexpected source: Vermont. "It's hard for me to look
back on the me of 2008 and realize why I was so into the state," Baker
says. "It's more like Vermont happened to me. This imaginary small town
sort of sprang out of my brain."
The first of her Vermont plays, Body
Awareness—about a lesbian couple, their possibly Asperger's-afflicted son,
and an artist who photographs nudes—was nominated for two Drama Desk
Awards in 2009 and had a well-received run earlier this season at DC's
Theater J. The Obie Award-winning Circle Mirror Transformation—a comedy
about an acting class in the same fictional town of Shirley,
Vermont—followed, winning Baker local fans when it played at Studio
Theatre in 2010.
This month, Studio presents Baker's The
Aliens. The story of two "townies" outside a Shirley coffee shop
who enlist a teen into their crew, it was inspired by her childhood in
Amherst. The characters are "the guys I grew up with," says Baker, 31.
"The people who made bonfires and played music at 4 in the morning next to
Puffer's Pond. Most of them wanted to be artists, and many years later I
realized they were."
Her Vermont phase over, she continues to work on new projects,
including an adaptation of Chekhov's Uncle Vanya that ran at New York's
Soho Rep this year. Despite her success, Baker describes her writing
routine as "dysfunctional—if I had more self-discipline I would wake up at
8, dance until 10, read until 1, and write from 2 to 7. That's the perfect
day."
The Aliens, November 14 through December 23. Tickets ($39 to $72) at
studiotheatre.org.
This article appears in the November 2012 issue of The Washingtonian.