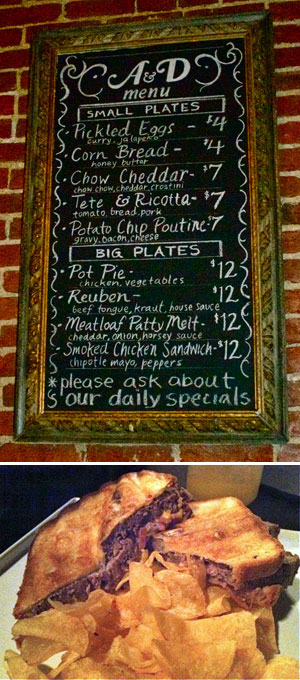 It's been long in the works, and Mount Vernon neighborhood pub A&D finally opened
last night to a packed house. The new venture is the third on the Ninth and N street
block for
Ali Bagheri and
Dan O'Brien, the duo behind market turned supper club Seasonal Pantry and neighboring sandwich shop Sundevich.
The business partners are each taking their turns in the bar's small kitchen area—O'Brien
still runs the multi-course meals out of Seasonal Wednesday through Saturday—which
dishes out a concise number of eats to go along with cocktails and brews. Here are
four things to expect from the new spot.
Gin 'n' (dirty) juice: As you'd want with any neighborhood watering hole, you can drop in for a can of beer
or go more upscale with a creative cocktail. The high-low mix mainly applies to the
brews, with cold Schlitz and PBR alongside DC Brau and Dogfish Head drafts. It's doubtful
anyone would dissuade you from a shot of rail booze, but you'll find house liquor
concoctions on a framed chalkboard. Seasonal sips like the 9th St. Coquito—house-made
eggnog spiked with brandy and vanilla-infused rum—run alongside signatures such as
the A&D, a riff on a dirty martini with locally made Green Hat Gin and pickle juice.
More seats than you'd think: Walk into the front room, and you may think a seat is out of the question. The dark-wood
bar and three tables were filled by the time we arrived at 5:45 (big caveat: it was
opening night), and the crowd was lively and buzzy. If it's packed and you're hoping
to sit, head toward the second room in the back. There you'll find more space with
several high-top bar tables and a long wooden ledge against one wall lined with additional
stools and accented with glowing candles.
Better-than-bar eats: As much a bar as place to grab a casual bite, the concise menu reads like the kind
of list you want to browse after downing a bourbon or three. Snack on small bites
like curried pickled eggs or cornbread with honey butter, or share a take on poutine
where spicy chips are smothered in gravy and topped with crumbles of bacon and blue
cheese. Heartier appetites can opt for the large plates section, filled with the likes
of chicken pot pie or meatloaf layered onto warm, crisp bread with onions and melted
cheddar. The commitment to quality ingredients at Seasonal and Sundevich carries over,
so expect jarred items to come in the form of house-made pickles from the crew's market
next door.
A rustic touch: Timely for a winter debut, little says "hole up with a beer and friends" like dark-wood
paneling, exposed-brick walls, and warm lighting. You'll find menus hand-written on
chalkboards, vintage signs in the bathrooms, and water doled out in Mason jars. Yes,
it's a familiar decor theme of late, but we're not complaining (remember the colored
lights and white Cosmos of the '90s, people?). Still (at least in our drop-in) the
playlist ran more Eminem and eclectic lounge beats than anything bluegrass.
A&D. 1314 Ninth St., NW; 202-290-1804. Sunday through Thursday
5 PM to 1 AM, Friday and Saturday 5 PM to 2 AM.