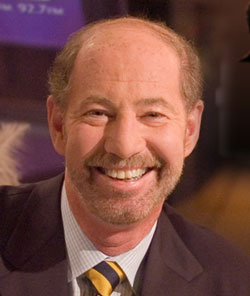 Washington's number-one curmudgeon,
Tony Kornheiser, has fallen head over heels in love with Redskins quarterback
Robert Griffin III. We know he's not alone in this passion, but his superlatives for the rookie know
no bounds. Kornheiser, while the most consistent and effusive, is not the only local personality
to become publicly besotted with Griffin. Celebrated Washington hostess
Sally Quinn has weighed in, too, saying he's "what people talk about at dinner parties," and
declaring that Griffin's hold on Washington has united the capital "as I've never
seen before." (She's been here at least four decades.)
Pulitzer Prize-winning
New York Times columnist
Maureen Dowd also jumped feet first into the lovefest in a recent column, calling Griffin "charismatic"
and referring to his "zeal," "easy charm," "work ethic," "self-effacing charm," "joy,"
and "intensity," but not stopping there. "RG3 offers values on and off the field that
make us feel it's okay to believe again."
Howard Fineman, senior political editor of the Huffington Post, took it further. "I know who can
solve the fiscal cliff crisis: RG3." Hmmm. He has better things to do, but still—wow.
Yet it's Kornheiser, on his weekday morning ESPN 980 sports talk show, who outdoes
them all, possibly best embodying the way Griffin has made DC go gaga. Kornheiser,
a former
Washington Post sports columnist, doesn't like much of anything, whether it's snow, traffic, dinners
in restaurants, parking garages, flying, other humans, or the Redskins—until now.
After the poorly performing Washington Wizards beat the champion Miami Heat this week,
Kornheiser was among those who wondered if it was because RG3 was in the stands. He
suggested, "The Wizards ought to take him with them everywhere they go."
In just the past 48 hours, since the Redskins beat the Giants on Monday Night Football,
here's a sampling of Kornheiser on Robert Griffin III:
"Welcome to the land of unbridled optimism."
"He's the one."
"The miracle of Robert Griffin."
"He gets the Eagles, the Cowboys, and the Giants all in a row, and he beats them."
"We're seeing an amazing change in pro football."
"I love this guy."
"There's no insecurity with this kid."
"He delivers."
"All eyes are on him all the time."
"Why did the Wizards beat the Heat? Everyone knows why. Because RG3Jesus showed up."
"He's spectacular to watch."
"He has taken off like a Harrier jet."
"I think he's really, really cool."
"If I were to walk down the street with RG3 I could get any woman I want. I could
get lucky."
"The Ravens game should be cool. Sell your tickets and make a lot of money."
"Here's what I guarantee you: The Washington Redskins next year will get at least
three national games [meaning in prime time], and maybe as many as five, because of
this kid."