I have a friend who looks at the restaurant scene with an eye
that's nearly as jaded as his palate. That he's more often right than
wrong only reinforces his belief that his jadedness isn't a knee-jerk
reaction but a reasonable response to much of what's passed off as new.
Leery of self-promoting chefs and manufactured food trends, he also
disdains the fact that so many new places are laissez-faire when it comes
to reservations and dress codes and hawkish when it comes to blasting
music. And he laments the disappearance of the white-linen restaurant—"a
civilized place where you can think and talk and, you know, dine.
I know, I sound like a fuddy-duddy. I hate that. I hate that so many of
these places make me feel that way."
I knew my friend would cast a dim eye back at 2012, so I took
him to dinner one night to find out how dim.
"Hell of a year," he said, the sarcasm as thick as the
demi-glace on my hanger steak.
Looked at from a certain angle, his Champagne-glass-half-full
cynicism isn't without justification. Think about the most important
restaurant to debut this year. Think hard.
The best I could come up with was the Adams Morgan bistro
Mintwood Place, which—despite the deft cross-cultural experimentations of
chef Cedric Maupillier and the imprimatur of an official Obama
visit—insists on remaining a low-key neighborhood joint.
Some of the biggest names in the industry retrenched or
retreated. The four-star restaurant Citronelle shuttered in July, citing
damage from a summer flood; though chef Michel Richard told the
Washington Post in October that the restaurant would return in
spring 2013, speculation is rife that Richard, long at odds with
Georgetown's Latham Hotel, may be looking to land elsewhere rather than
reopen there. The chef's biggest project of 2012? A spinoff of his Penn
Quarter bistro, Central—in Atlantic City.
The restaurant 2941, a gaudy vestige of dot-com excess in Falls
Church, didn't close, but the massive overhaul of the three-star
destination—Bertrand Chemel, a disciple of French master Daniel Boulud,
has been tasked with turning out a casual, Mediterranean-style
small-plates menu—amounted to a wave of the starched white
napkin.
Hedging proved an even hotter concept than farm-to-table. Ashok
Bajaj didn't launch a new venture; he doubled down on an existing idea by
opening a spinoff of Rasika in DC's West End. Jamie Leeds did the same,
expanding her oyster-bar empire with a Capitol Hill version of Hank's.
(Her innovation: adding dessert plus some cocktails and house-made sodas.)
Chef Jamie Stachowski returned, but with a Georgetown butcher shop, not a
restaurant. In Old Town, Cathal and Meshelle Armstrong opened a new place,
Society Fair, that's more market than cafe. And in Arlington, the couple
cleverly maximized real estate by bunking a second branch of Eamonn's,
their Dublin-style fish-and-chips joint, with a bar, TNT, for mixologist
Todd Thrasher to concoct his potions. (For more on TNT, see page 151.)
Bryan Voltaggio continued to tweak plans for Range, his ambitious
follow-up to Volt (slated to open in Chevy Chase in early December); he
chose to extend his reach in the meantime with a soup-and-sandwich spot
(Lunchbox), and a glorified diner (Family Meal), both close to Volt in
Frederick.
• • •
It was a year in which the old hierarchies appeared to have
collapsed, possibly for good. But with that collapse has come a new
fluidity and new ideas—creative, often unorthodox approaches to doing
business that are unexpectedly altering the landscape.
No veteran restaurateur showed a keener grasp of the way the
lines are being re-drawn than José Andrés, who while planning spinoff
restaurants at home and abroad and preparing to relaunch Minibar, rolled
out a food truck, Pepe (see page 148)—thereby erasing the line between the
establishment and the mobile-restaurant insurgency and, perhaps, inspiring
his fellow chefs to broaden their reach.
Some trucks, seizing on their grassroots popularity, became
brick-and-mortar restaurants. Porcmobile opened Kangaroo Boxing Club in
Columbia Heights' newly bustling 11th Street corridor. Tacos El Chilango,
the customer-lauded Arlington food truck, installed a taqueria a block
north of U Street. Much fanfare greeted the September arrival in Northeast
DC of Union Market (see page 149), a collective whose food stalls, among
them the excellent Rappahannock Oyster Bar, benefit from joining together
under one roof—the entrepreneurial spirit of the food truck writ
large.
Minimalism wasn't a statement but a necessity for many
restaurateurs in a sluggish economy. The U Street corridor's Izakaya Seki
and Columbia Heights' El Chucho offered the raw vitality of demo recording
tracks at their unvarnished best. One of the unlikeliest hits of the year
was Menomale in DC's Brookland, where restaurants (let alone good
restaurants) are scarce—yet its Neapolitan pies often surpassed those of
such upper Northwest DC vets as 2 Amys and Comet Ping Pong.
The stripped-down, still-signless Little Serow, a Thai
restaurant near Dupont Circle from Komi's Johnny Monis, not only proved
that a pedigreed chef can turn out an upscale version of an exotic cuisine
without preening self-congratulation; it also smudged the line between
fine dining and ethnic dining as never before.
• • •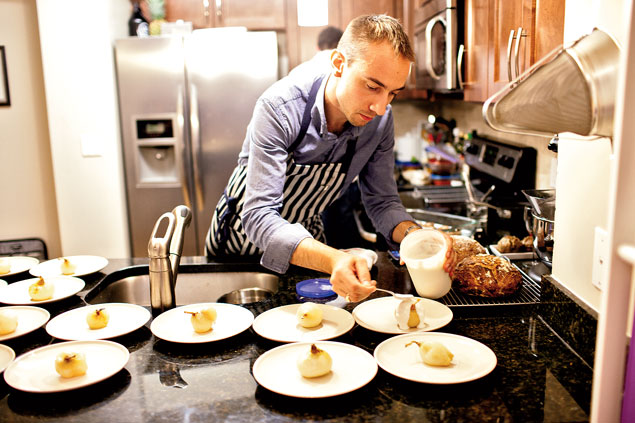 The idea that great food is a matter of good location or a
function of a household name and a well-designed space has rarely seemed
quainter. Many of the most memorable meals I had in 2012 weren't stately
progressions from appetizer to entrée to dessert, nor did they unspool in
white-linen settings. Some of them weren't even in what you'd call a
restaurant.
The baby-pig tacos at R&R Taqueria in Elkridge and the
magnificent chivito (Uruguay's overstuffed answer to the Cubano)
at Fast Gourmet, two blocks north of U Street, stand as moments of
brilliant clarity amid a cluttered montage of 500-plus meals
out—gas-station eating as destination dining.
Rasika is fantastic, but the most exciting Indian meal I ate
all year was a plate of chicken tikka with Punjabi chole
and an egg paratha at a place called Punjabi by Nature, a
food-court stall in Chantilly's Lotte Plaza.
Among the many tasting menus I explored, three impressed me
with their novelty and daring. None had a big name attached.
Thai X-ing, Taw Vigsittaboot's BYOW (bring your own wine) place
in DC's Shaw neighborhood, may not belong in the same rarefied class as
Little Serow, but it's one of the most interesting nights out in the
District—a somewhat uneven five-course meal full of bracingly pungent
flavors in what would appear to be the chef's own rowhouse in
Shaw.
Six blocks south, Dan O'Brien converts his mini-general store,
Seasonal Pantry, into a mini-supper club four nights a week. Cooking for a
communal table of 12 with only a couple of burners and a staff of two,
O'Brien serves an elaborate, multicourse dinner punctuated with
restaurant-world gossip and brash declarations of his own awesomeness.
It's a dinner party for the Top Chef age.
One-upping him in effrontery if not execution is 24-year-old
publicist Tom Madrecki, whose culinary bona fides consist of unpaid stints
in the kitchens at the renowned Noma in Copenhagen, Le Chateaubriand in
Paris, and Zaytinya in DC's Penn Quarter. Madrecki stages Chez le Commis
in the unfurnished living room of his one-bedroom Clarendon apartment.
(The $50 charge essentially covers the cost of ingredients for six courses
plus wine.) You can marvel at his willingness to handpick the crab for his
salad while scanning the spines on his bookshelf.
The night I attended, one course bombed and another was kind of
blah. But the rest were pretty brilliant. And you have to love the kid's
daring, the gumption of trying to pull off haute cuisine in his cramped
living quarters.
"Can you believe we're eating this where we're eating this?"
the guy across from me asked, dazzled and a little bewildered, as he
smeared butter the color of tar (squid ink, of course) on a slice of
crusty bread.
I didn't want to spoil his awe, so I lied, reveling with him in
the illicit thrill of underground discovery. But in a year in which I'd
eaten gloriously at gas stations, food courts, and butcher shops, the
truly surprising thing about Madrecki's apartment experiment was just how
unsurprising it was.
Read more from our Best in Food 2012 package.
This article appears in the December 2012 issue of The Washingtonian.