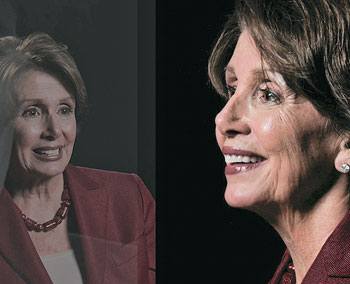 How do you make a portrait of a city—its industries, residents, nuances, trends, and sense of purpose? "The Network," a groundbreaking video portrait being unveiled at the National Portrait Gallery on December 11, tries to encapsulate modern Washington in a single cutting-edge work. Chicago multimedia artist Lincoln Schatz has been working on the project for four years, interviewing 89 Washingtonians, each representing a sphere of influence.
The list is a who's who spanning politics, media, law, science, the military, arts, and sports. Schatz filmed Internet pioneer and Wizards owner Ted Leonsis describing his interests in technology and literature; Kennedy Center president Michael Kaiser talking about how his grandfather, a New York Philharmonic violinist, fostered his love of the arts; and former undersecretary of Defense Michèle Flournoy discussing the ways she thinks the George W. Bush administration flouted the rule of law.
Schatz—whose fascination with Washington started when he arrived here at age 19 to intern for Senator Ted Kennedy—also interviewed some of the most powerful people in government, from Eric Cantor and Nancy Pelosi to Ray LaHood and Barney Frank. The first challenge, Schatz says, was "trying to figure out who the portrait should be of." He did the natural Washington thing: hired a pollster to research who was most widely regarded as influential. The answers? Mostly Barack Obama.
Next, Schatz made a list of names of people high up in the federal workforce, but the sheer scale of it made him queasy. So he started with a core of people he dubbed the "seed group" and asked them for recommendations. One of the most responsive was Americans for Tax Reform president Grover Norquist, who called Schatz so regularly that Schatz's wife started telling the artist his "boyfriend" was on the phone.
Before filming his subjects, Schatz set about researching their histories, reading books they'd written, looking for interviews they'd done, trying to ascertain key moments in their lives and their main achievements.
During Schatz's interviews, the subjects were filmed by three cameras, and the topics they discussed were sorted and tagged into more than 9,000 video files. When the work is displayed, it randomly selects a segment of one person discussing an issue, then segues to another person talking about the same thing.
Schatz recalls being surprised when the software presented National Rifle Association president David A. Keene immediately followed by Emily's List president Stephanie Schriock. They were paired because both spent time talking passionately about freedom.
The portrait itself constantly recalibrates, presenting people in different order. "You can tell a story a lot of ways, and by changing the order you can change the story significantly," says Schatz. "I want this piece to offer a different way of understanding these people."
This article appears in the December 2012 issue of The Washingtonian.