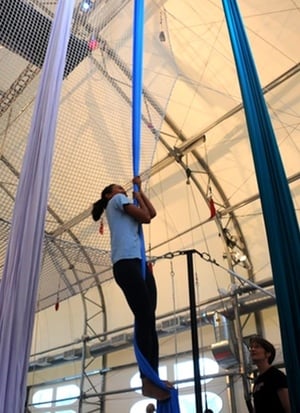 Here's the thing about being a health and fitness writer: It doesn't mean you actually love exercising and eating nutritiously 24/7. Case in point: I do not eat kale and quinoa with every meal. I do not enjoy going to pole dancing classes and walking with a limp for days after a boot camp class. But keeping up with the latest fitness craze does come with the job, and I can't really complain if it keeps me in shape.
Looking back on 2012, I've subjected myself to tons of invigorating, fun, and occasionally excruciatingly embarrassing fitness classes. Here's a look back at some of my favorites from the year.
Most Traumatizing (But Fun): Pole Dancing
After online managing editor Tanya Pai tried out a beginner's pole dancing class at Pretty Lady Pole Fit in Alexandria, I awkwardly pelvic-thrusted my way through an exotic dance class at Lava Barre in Arlington. This was, hands down, one of the most embarrassing (though totally fun) moments for me on the job. And yes, it was surprisingly difficult.
Most Sore I've Ever Been In My Life: CrossFit
You know it's bad news when your quads are sore before you've even finished a class. I've never done so many squats in a span of ten minutes than I did for this intro CrossFit class at Balance Gym. For the next five days, every time I coughed, sneezed, laughed, or moved I wanted to cry. That said, it's totally worth a try.
That Time I Tried To Join the Circus: Trapeze School
So, guess what: It's possible to have sore armpits. After an hour of pushups, planks, pullups, and scaling hanging aerial silks, it hurt to even brush my hair. Lesson learned: Trapeze school is not just about flying and playing around on a trampoline. You need to be strong—like guns-of-steel strong.
The Free Class That Was Surprisingly Hard: P90X Workout
I knew P90X was no walk in the park, but I thought creator Tony Horton might go a little easy for his free classes along the Southeast Waterfront this year. Yeah, that didn't happen. The outdoor workouts were an hour and 15 minutes and packed with P90X die-hard fans (minus Paul Ryan) and crazy modifications of pushups and lunges. I'm convinced Horton is not human.
The Biggest Fitness Craze of the Year: Indoor Cycling Class
Talk about a growing trend: Three indoor cycling studios opened in the District this year alone, and Well+Being visited every single one. We tried the cycling and barre fusion class at Revolve, Sculpt DC's cycling and strength-training workout, a Spinlates class at Mint DC, a cycling class without the actual bike . . . the list goes on. Here's hoping this is one trend that sticks around.
The Best Attempt at Reliving the Hunger Games: Washington Sports Club's Train Like a Tribute
Assistant editor Mary Yarrison almost begged to try this class when she heard about it (she has after all, read the whole Hunger Games series more than once). While it was a little corny at moments, we still love Washington Sports Club for their creative fitness classes (Blitz and Glitz class, anyone?).
Most Anticipated: Les Miz Broadway Boot Camp
Confession: I may be able to sing the entire Les Misérables soundtrack from memory. That's why I'm so excited to join the cast at an open Broadway Boot Camp workout at Vida Fitness—U Street next week. Do a bunch of burpees to the tunes of the Broadway show? I'm there—and hope you'll join! Stay tuned for a writeup next week.
What was your favorite fitness class of the year? Share it with us in the comments.