The holiday spirit was in full swing yesterday in the Benjamin Franklin State Dining
Room, thanks to four Christmas trees, gold-and-maroon ribboned wreaths, and evergreen
garlands, and jazzy renditions of Christmas songs playing above the chatter.
Mostly, though, it was thanks to the families. Whether they were chowing down on the
variety of hors d'oeuvres available or decorating cupcakes from state chef
Duff Goldman's
famed Charm City Cakes, everybody was having a good time.
The YouTube station in one corner of the room was set slightly apart from the rest
of the action. Composed of several webcam-equipped laptops, the station allowed families
in attendance to record and send video greeting cards to their loved ones abroad.
The video greetings will only be available to their intended recipients through private,
unlisted links on YouTube.
That was really the heart of Diplomacy at Home for the Holidays, a State Department-sponsored
holiday party for the families of Foreign Service employees serving unaccompanied
tours in countries around the world. Begun by Secretary of State
Hillary Clinton in 2009 and made possible by public-private partnerships with corporations such as
Chevron and Disney, the event is one way to express gratitude toward the civil servants
who serve abroad.
"It was her idea," says US Chief of Protocol
Capricia Penavic Marshall of Clinton. "She thought many people know about the dangers of the military and their
families' sacrifices, but they don't know much about civil servants who do just as
much for our country and sometimes do come into harm's way. We wanted to thank their
families in this way."
As the room filled up with guests of all ages, Rudolph the Reindeer and Frosty the
Snowman roamed around, dancing with children and posing for pictures. One little girl
headed straight for Rudolph to hug him—she barely reached his knees—and wouldn't let
go until her picture was taken. In the adjacent room, a long table creaked under the
weight of all the candy a kid could want.
"You make your own candy bag!" a boy said excitedly to his sister. "I'm going to get
so much of everything!"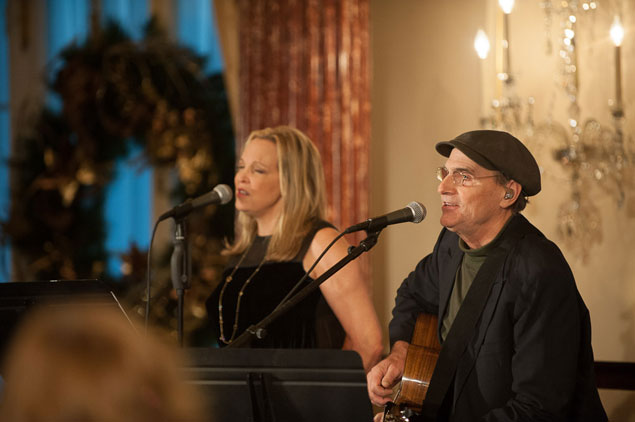 Later in the afternoon, singers and songwriters
James Taylor and his wife,
Caroline, donated their time to perform a few songs for the families.
"We wanted to be here to thank you. It's a service you do to be separated from family
at a time when it's most keenly felt," he said, strumming lightly on his guitar.
With the help of Boston Symphony Orchestra cellist
Owen Young, Taylor led the crowd in an impromptu sing-along session of some of his Christmas
favorites. Though everyone only hummed along at first, Taylor's rendition of "Silent
Night" got the crowd to join in as his wife sang in harmony. His last song of the
night, "Shower the People," was one of his own—and as he sang, several audience members
sniffed audibly, dabbing at tears.
Though originally slated to speak at the event, Secretary Clinton was unable to attend
due to a concussion she suffered over the weekend. In her stead, Undersecretary of
State
Patrick Kennedy read a letter addressed to her guests, in which she thanked them for their sacrifice.
"Your sacrifices make it possible for us to maintain a diplomatic presence in places
that are remote and, at times, tumultuous," the letter read. "Your loved ones . .
. are doing absolutely heroic work. We could not foster peace and security worldwide
without them, and they could not do it without you. . . . And I want you to know that
the State Department is here for you."