Say what you want about Broadway shows, but the stars sure know how to stay in shape. Trust me.
I might have no idea what it's like to perform eight three-hour shows a week, but after working out the cast and crew of Les Misérables yesterday, I certainly have an idea of how they keep such incredibly fit physiques. (Seriously, these guys have no fat on their bodies—but I'll get to that later.)
When I was asked to join the touring cast of Les Misérables for a special Broadway Boot Camp class at Vida Fitness on U Street Tuesday, I practically squealed with delight. As I've somewhat admitted before, I am a bit of an undercover Broadway fan.
And I'm not the only one in DC, apparently. Nineteen of us—a mix of both men and women—packed into a fitness room to giddily sweat it out to not-so-normal Broadway tunes. Think less doing high kicks to "At the End of the Day" and more going through a killer ab set to rock and techno covers of popular songs like Wicked's "Defying Gravity" and Sweet Charity's "Big Spender."
The cast and crew of Les Miz bring their Broadway Boot Camp to local gyms in every city they visit, as both a way to get to know the city and to force themselves to stay in shape, as well. "We try to make it for all levels," explained stage production manager Trinity Wheeler after the class. "People love the music from Les Miz, and we try to tie [the workout] to the show."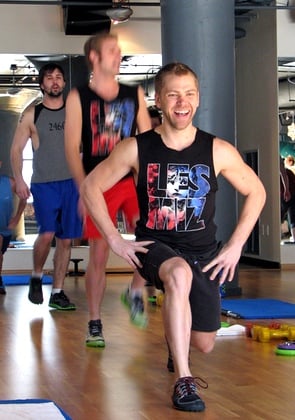 We started out with a high-intensity warmup of jumping jacks, mountain climbers, and lunges led by cast member Alan Shaw. The second session involved a strength-training circuit with cast member John Brink, who, biceps bulging, led us through a series of curls, dips, and shoulder raises using weighted plates. I couldn't help feel a bit sheepish as I lifted my 10-pound plate while the cast—and the six-foot-five guy next to me—hoisted 10 to 20 pounds more.
But the real fun started when Wheeler broke us into teams and coached us through some relay exercises. My favorite challenge was burpees across the studio floor—because it's much more pleasant doing these dreaded exercises to the tune of "Ease on Down the Road" from The Wiz than while listening to a personal trainer yell at you to do five more.
Although the show is mostly known for its singing, Wheeler says many audience members would be surprised to know the physical demands the cast endures every night. Says Brink, "Climbing up and down the barricade—it's treacherous. There are a lot of ways to get hurt and if you're not working out or keeping yourself loose, you're guaranteed to get hurt."
Shaw, whose character dies on the barricade, says, "I get shot and literally fling myself over the barricade—if I didn't work out every day, I'd throw my back out."
And with chiseled physiques like theirs, there's something to be said for how they eat while on the road, too. "We're always trying to find restaurants and order in a way that's healthy and sustainable," Wheeler says.
The production of Les Misérables at the National Theatre runs until December 30; you're likely to catch the cast and crew grabbing a meal at their favorite spots in DC: Founding Farmers and Sweetgreen.