William Faulkner once said, "The American really loves nothing but his automobile: not his wife his child nor his country nor even his bank-account first…but his motor-car." Even as many Washingtonians turn to bikes, and as our city faces worse and worse congestion, let us not forget our beloved automobiles.
Washington has become bike obsessed. Capital Bikeshare users took over 1.8 million trips last year; that's over 5,000 trips a day. DC has the largest bike-share program in the country, with over 18,000 members and 189 stations in DC and Virginia. There are now 80 miles of dedicated bike lanes in the District.
I applaud our city for embracing bikes. I, too, like to bike to work on occasion. Yet since the closure of Pennsylvania Avenue in front of the White House in the late 1990s and the "temporary" closing of E Street in 2001, our city has been choked by east-west traffic. Ever try to go from Georgetown to Penn Quarter in rush hour? Good luck. And have you tried it lately?
I've sat on the corner of 19th and L and watched each evening as the backup has gotten worse and worse with the addition of the new bike lanes—and I watch as the smog from stopped cars pollutes while nary a bike goes by on cold winter evenings. Only 3% of commuters bike. More than 70% still drive or take the bus.
One has to wonder if there is any strategy to our bike-obsessed city. Did it occur to anyone to perhaps put the east-west bike lanes on H, N, or I Streets? Streets with significantly less traffic than L or M. Is anyone measuring how many bikes use the lanes in rush hour to determine whether they warrant the increased traffic backup?
In order to get a speed bump in my neighborhood, I must get a petition from 75% of the households and then have the speed and quantity of traffic measured. Are we doing that for bike lanes?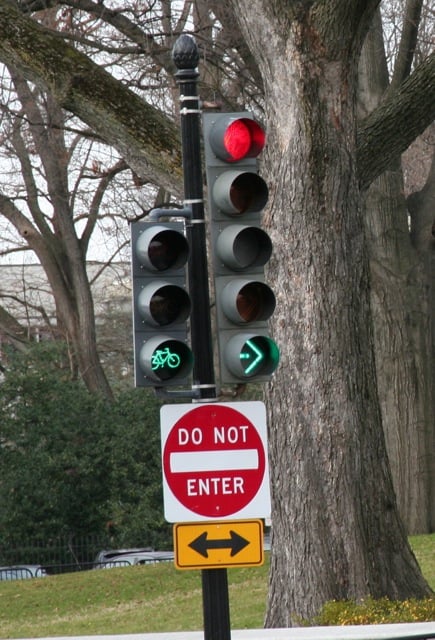 Recently I came across this signal. I assumed it meant to watch for bikers when turning, which I explained to MPD officer who pulled me over–yet I was still fined $100 for "Disobeying A Traffic Control Device." No warning, no matter that this is not in the DC Driver Study Guide, which lists eleven other signal types.
I love that our city has embraced bikes. But let's add some common sense to the equation and find ways to also better accommodate the automobiles we love so much.
Cathy Merrill Williams is the president and publisher of Washingtonian Media. She lives in Northwest DC with her husband, Paul, and their two sons.