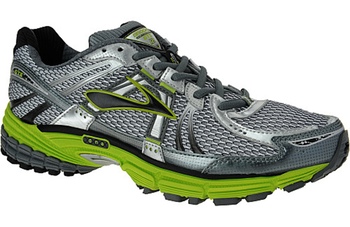 Here's the thing about fitness crazes: People fall for the newest big thing, spend crazy money on them, and then six months later move onto the next gimmick.
Remember velour tracksuits? What about Crocs, which tried to slide into high fashion with its line of high heels? If you fell prey to the hype and bought them, they're now gathering dust in the back of your closet (we hope).
The same goes for running shoes. Looking back on 2012, it's pretty safe to say the minimalist running shoe fad was the talk of the fitness world. From Vibram FiveFingers to Nike Frees, those shoes were rocked by almost everybody at the gym. (In fact, our article on the best minimalist running shoes was, and remains, the most popular article on Well+Being.)
But when we asked local store managers at Pacers, Potomac River Running, and Georgetown Running Company what their best-selling shoe of the year was, they all had the same answer: the non-minimalist Brooks Adrenaline.
"The Adrenaline from Brooks is far and away our bestseller," says Dustin Sweeney, manager at Pacers Running Store in Clarendon. "The Adrenaline is the number-one running shoe nationwide, as well."
But what about all of the neon, standout minimalist shoes that made headlines in almost every fitness magazine this year? They remain "far behind the main styles of running shoes," Sweeney says. In fact, they're not likely to grow much larger than 10 percent of the shoes sold in running stores; this year, minimalist shoes made up 7 percent of sales, compared with stability and neutral shoes, which sold 44 and 33 percent, respectively.
Sure, minimalist shoes may look sleek and make you feel light as air, but they don't necessarily work for the general running population, says Margie Shapiro of Potomac River Running. "[Nike] Frees and Newtons get a lot of press and are popular in theory, but they're not as versatile a shoe. Not as many types of runners and types of feet can wear them."
As for the most minimalist of them all, the Vibram FiveFingers, you'll have to search for them elsewhere, as Pacers has stopped carrying them altogether. It's worth noting that at Pacers, the Brooks Adrenaline was followed in popularity by Brooks Ghost, Asics 2170, Asics Nimbus, and Brooks Ravenna.
So if you're looking for a new pair of running shoes to start 2013 off right, the Brooks line might be your best bet.